Custom Search
My Store Page
---
My Store Page
Welcome to My Preschool Store Page!
On this page, you will find links to items that I have for sale, e-books that I have created and have for sale, workshops and more.
The information on my website is free and will always be free with no membership required!  This includes the theme pages, articles, etc.
---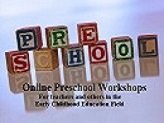 Workshops
Most states/provinces require preschool teachers to participate in a set number of in-service clock hours of training each school or calendar year.
As an early childhood educator and director, I know how difficult it is to find affordable trainings as well as to find the time to participate in them!
This page will contain online preschool workshops that will help you meet your in-service requirements in the comfort of your own home! You can take the entire current school year to complete them!
Online Workshops
---
E-Books for your e-reader
I have received multiple requests for my themes and other information in an e-book format.  I have begun to format each theme and publish them for e-readers.  They are available for a small fee.  You can find them by clicking the link below:
My e-Books
---
My Amazon Store
Preschool based items or books that I recommend throughout the website that are available on Amazon will be listed here, in my Preschool Plan It Amazon Store.
Preschool Plan It Store
---
Items for Sale
From time to time, I sell books from my own collection that I no longer use or have already read.  Some are preschool related, some are not. You can find these books at the link below.  And, check back often as new e-books are added each week!
Miss Cheryl's Items for Sale
---
Build A Website Based on YOUR Passions!
How did I build this website when I know NOTHING about building websites or "html" coding (what IS that, anyway?!!)?  The link below gives you the information on how I did it and how you may be able to take your passion and make it into a successful website as well!
Work From Home
---
Return to Preschool Plan It HOME PAGE from this My Preschool Store Page