The Preschool Primer--
Tips, Advice, Theme Suggestions and more!
Subscribe to The Preschool Primer Newsletter below and receive this FREE report!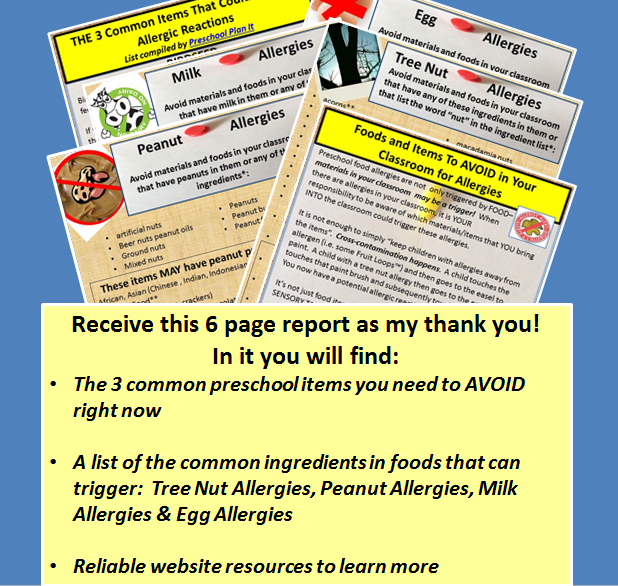 The Preschool Primer --
it is my way of sending YOU what you need as you work in this wonderful world of preschool!
In each online issue, you'll find suggestions for preschool themes and lesson plans for the upcoming month, teaching tips and tools, interest learning center information and early childhood education articles.  
As a subscriber, you will be the FIRST TO KNOW when new information is available on Preschool Plan It!

In addition--you will receive my 6 page FREE download to help you navigate through Preschool Allergies and how to handle them in your classroom.

The Preschool Primer is sent out a couple of times a month.  You won't want to miss this information!  

To begin receiving my newsletter, enter your name and email address to the form below...it's free and I promise--your email will ONLY be used by me--I'm very protective of your email address! 
What Will I Find in the Preschool Primer?
Each issue will have a tip, tool or article just for preschool teachers/educators!  Some items you might find:
---
---
Go to Preschool Plan It's Home Page
Also--come visit me and your online colleagues on FACEBOOK!

Like to Pin?!  See the ideas I have and find by FOLLOWING ME ON PINTEREST
---