Toddler Teacher Resources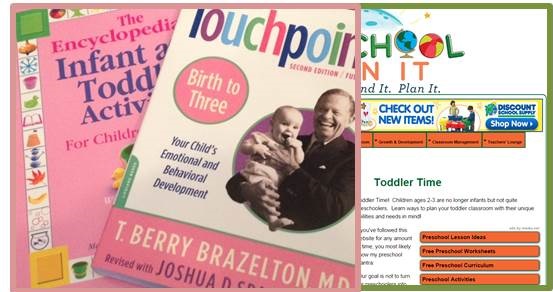 Toddler Teacher Resources can be difficult to find for teachers of this awesome 2-3 year old age group.  These pages will be added to often as I find quality resources that will help!
There are Toddler Resources and then there are Quality Toddler Resources!
I have received many emails asking if I know of any good, quality resources for teachers and caregivers of toddlers.  Toddler teachers are looking for resources on milestone information, ideas for activities, lesson plans and more for toddlers between the ages of 2-3 years old.
Many of the activities in the Preschool Themes section can be used with toddlers.  Most of the growth and development information, however, is geared toward preschool aged children (ages 3-6).
The goal of this section is to provide information on resources--books and websites--that will be of benefit to toddler teachers.
You Can Help!
As you look through these resource sections, you might think, "I know of a GREAT book or website that would help!"
If you do, please, let me know BY CLICKING HERE.  Let me know the name and author of the book or the URL address of the website.  Also, please give me a quick summary of WHY you think it is a great resource!
I can then add it to the appropriate section.
Also, if you click on a link that is no longer working (some websites shut down or move), again, please let me know BY CLICKING HERE.  Send me the website link that is not working and I will remove the link and see if I can find the new URL, if it has been moved.
Toddler Teacher Resources
Click the link below to go to the type of resource you are looking for!
I hope you find this Toddler Teacher Resources section helpful!
~~Miss Cheryl
---
Go to the Toddler Time Main Page
---
Go to Preschool Plan It's HOME Page
---