Beach Theme for Preschool
This Beach Theme for Preschool has over 45 activities and preschool lesson plans to enjoy the beach in your preschool classroom!  
It has activities for all your interest learning centers!  
Please click here to Contact Me if you have preschool lesson plans or activities to add to this theme!  
Let the Beach Theme Planning Begin!
Whether you live near a beach or not, there is just something fun and relaxing about a beach theme in the classroom and outside in your play area!  Bring your preschool activities outside if the weather allows!
Or, take a break from the cold winter months and have a Beach Theme for a day or week in January!
You can either scroll down through this page to see all of the preschool activities for your beach theme or click the link below to go to specific preschool activity types you are looking for.
Beach Theme Art
Sand Art
Materials Needed: colored sand (or the salt sand you made in the math center....see the Math and Manipulatives section below!), tag board
There are 2 ways to do this!  
The children squeeze glue all over their paper and then sprinkle the different colors of glue over it (use a shallow tray to catch the extra sand!)

The children brush their entire paper with clue and then use a spoon to sprinkle the colors to make a beach scene!
Jellyfish
Materials Needed:  coffee filters cut in half; watercolor paint (liquid water color is awesome for this), colored streamers, scissors, stapler, googly eyes.
The children paint their coffee filter (print their name in pen before beginning so that you remember whose is whose--and don't use a marker, the ink will smudge!).
When dry, the children cut strips of colored streamers and staple to the bottom, flat part for tentacles.
They glue on googly eyes!
Beach Towels
Materials needed:  paint, brushes, large white construction paper, scissors, pen/marker.
The children print their name on one side of the paper.
Flip paper over and the children design their own beach towel with paint.  Encourage the use of mixing colors, patterns, dots, etc.
When dry, the children use scissors to "fringe" the shorter edges!
Sandpaper Rubbings
Materials needed:  variety of different "grit" or roughnesses of sandpaper cut into different sizes, paper, peeled crayons.
The children place pieces of sandpaper under their paper.  
They rub crayons over their papers to reveal the texture (using the sides of the crayons, not the tips).
VARIATION:  Let the children color ON the sandpaper!
Bubble Wrap Beach Theme
Materials needed:  Bubble wrap, thinned tempera paint, brushes, large construction paper
In advance, cut the bubble wrap into beach items such as:  beach umbrella, chair, pail, bucket, seashell, boat, etc.
The children paint on the bubble wrap and then press the painted side onto their paper.  
Sounds and looks cool!!!
Beach Theme Block Center Ideas
Beach Theme Sand Tube Builders
Use the tubes made in the Sensory Table (see that section below for instructions) or make them yourself!
Place the tubes in the block area for some fun building.
When your theme is over, make a large sand city by stapling or gluing the tubes together!
Beach Theme Circle Time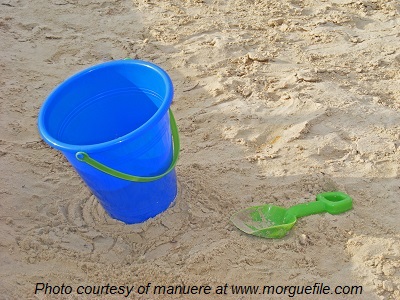 Circle Time is such a great time for children to learn the social skills of being together as a large group AND to learn more about your theme!
Beach Time!
Materials needed:  Collect a variety  of items that are beach related:  pail, shovel, baggie of sand, seashell, umbrella, beach towel, sunscreen, etc. 
Hide these items in a large bag.
Place one of the items in a box or bag where they children can not see it.  
Let them feel and try to predict/infer what it is based on the size and feel!
Beach Theme What's Missing Game
Using the items above, place them all out in the open.
Cover all the items with a blanket.  
Remove one item without the children seeing what it is.
Can they remember what items is missing?
At The Beach Chart
Hang a large piece of chart paper at circle.
Have the children tell you all of the things they might see at the beach!
You will be surprised at all the things they come up with that you may not have thought of!
5 Little Sand Castles
This is a fun poem to act out and use flannel pieces with!
Have a child remove one flannel sandcastle at the end of each verse.
5 little sandcastles sitting on a beach.
Watching the boats go by.   (hand over eyes as though watching boats)
5 little sandcastles sitting on a beach 
Watching the seagulls fly  (flap arms like a seagull and make the gull noises, too!).
5 little sandcastles sitting on a beach 
Watching the clouds so high (look up and point)
When along came a wave  (roll hands or make large wave movements with arms)
and washed one away  (hold up 1 finger).   (Remove one sand castle from flannel board)
Now this is what the other ones say:
Now we are 4 little sandcastles sitting on the beach....... 
Repeat the poem and movements down to the last one.
After the last one is washed away:
...When along came a wave
and washed it away.
Now there is nothing to say.
Hermit Crab! Hermit Crab! Where are you?
For this game, make a set of cards about 3" X 3" all with a seashell on it.
Make a hermit crab body that will fit under the cards without being seen.
Laminate the cards.
Using a dry erase marker, program the cards with letters or numbers.
Place the hermit crab under one of the cards without the children seeing.
Say, "Hermit Crab!  Hermit Crab!  Where are you?"
Invite ONE child to take a turn guessing (they choose a shell and before lifting it up, they say the letter or number.  If they don't know what it is, ask the rest of the children to help their friend identify the number or letter).
The child lifts up the card.
Is the hermit crab there?  If yes, "Hooray!  You found it!"  If no, "Not here today!"  Place the card back on the floor.
Repeat until every child has had a turn.
This type of game is always a favorite!  You might want to place it at your math or library area for use during center time!
VARIATION:  If you are working on colors, print off the seashell cards on colored paper!
I Hear The Ocean!
Bring a large variety of sizes and types of seashells to circle.
Let the children take turns listening.
Do they hear anything?
Here Hermit Crab!
Bring real hermit crabs to circle.  
Tell the children they need to be very quiet so the crabs don't feel afraid and will come out and walk.
Beach Theme Cooking Ideas
Cooking with children helps develop their math skills and helps them to learn how to follow directions. It also allows for some great conversation!
Ask many questions while cooking with your children to encourage conversation! Be sure to ask specific themed questions while making these fun snacks!
Peach Beach
Needed:  Canned peach halves, vanilla yogurt (or frozen yogurt!), sprinkles or crushed graham crackers, bowls, scoop or spoon for yogurt, spoon for sprinkles/crackers.
Make picture card directions for the children for each step and set the ingredients up in assembly line fashion.
The children place one peach half in a bowl.  
They move over to the yogurt and scoop 1 scoop into the peach.
They move over again to the sprinkles/crackers and sprinkle 1 or 2 spoonfuls on top.
Yum!
Extension:  See if you can find the little drink umbrellas for them to put in their snack!
Fish Shaped Toast
Needed:  bread;  toaster; fish cookie cutter; plastic knife; butter, cinnamon and sugar OR tuna salad and olives! 
Toast the bread.  The children use the cookie cutter to make a fish shape.
They spread butter and then sprinkle with cinnamon and sugar.
OR
They spread tuna salad and use a black olive or olive slice for the eye!
Beach Theme Ideas to Transform Your Dramatic Play Area
At The Beach
Set up your dramatic play area to be an indoor beach!  Include items such as:
beach towels, adult summer clothes to wear (tshirts, shorts, sandals), empty water bottles (or a water bottle for each child with their name on it), sunglasses, empty and cleaned sunscreen bottles.
Add a wading pool!  Place damp sand, a sand pail and shovel and other items to play in the sand.  Add some sea shells, seaweed and fish as well
At The Bay
Have a lazy boat day!  Place an inflatable raft in your dramatic play area.
Include beach toys, beach balls, towel, water bottles, etc.
Add a wading pool.  Place laminated paper fish in the pool with paper clips on the noses.  Add a dowel stick for a fishing rod.  Add string and a magnet for the children to fish for!
Or, place water, rocks, seaweed and real goldfish in the pool!
Extension:  For the fishing game, you could program the fish with colors, letters or numbers for the children to attempt to catch.
Beach Theme Ideas for your Easel--

More Than Just Painting (Although that is always THE favorite in our classroom!)
Sand Paint!
To make sand paint you will need flour, salt and paint.
Mix 1 part flour and 2 parts salt.
Then add equal amount of paint (3 parts paint).
Example, for each cup you might add 1/8 cup flour, 2/8 (1/4) cup salt and then add 3/8 cup paint.
Beach Theme Large Group Games 
that help build their muscles while they have fun together
Sea Shell Search
Okay, try and say that three times fast!  ;)
Hide seashells in your sandbox and throughout your playground for a scavenger hunt!
Sea Shell Cup Game
Really!  Provide hard plastic drinking cups and a seashell.
The children place a shell under one cup and move the cups around.
Another child tries to guess which cup it is under!
Barefoot Beach Volley Ball
Use a beach ball to play volley ball!
Don't have a net?  It's okay.... make a line in the grass or sand using wooden blocks!
I could watch kids try to do this all day!
Have the kids try to walk like crabs from one side of your play area to another!
Water Day!
Yup!  It's Water Day or Beach Day!
Have the children come to school wearing their bathing suits under their clothes.
They will need a beach towel, sunscreen and permission from the parents.
In addition, enlist extra help so that your wading pools are supervised 100% of the time.
Fill 2 wading pools with water.
Have your classroom outside for the morning or afternoon!
Beach Theme Ideas for Your Library
Beach Theme Book Suggestions for the Library
Many of these books are available at your local library of you can click the title links below to find them on Amazon.
At the Beach
by Anne Rockwell
It's Beach Day! (Dinofours)
by Steve Metzger
A House for Hermit Crab (The World of Eric Carle)
by Eric Carle
On the Beach (Usborne Lift-the-Flap Book)
by Usborne Books
On the Way to the Beach
by Henry Cole
The Rainbow Fish
by Marcus Pfiester
Sea, Sand, Me!
by Patricia Hubbell
Spot Goes to the Beach (Fun with Spot)
by Eric Hill
Beach Theme Math and Manipulatives Activities
to help your Preschoolers develop their math skills and those small muscles in their hands!
Colored Sand
Needed:  salt, shallow trays, sidewalkchalk, containers to put the colored salt-sand into when colored.
In each tray spread salt.
The children use the long sides of the chalk to rub back and forth against the salt.  This will color it.
Put salt in containers when done.
VARIATION:  Another way to do this is to place salt in ziplock baggies with pieces of small chalk.
The children squish and rub the bags to color the salt.
Use this salt for the Sand Art Activity in the Art section above.
Beach Blanket Bingo
Make bingo board games.  Make game cards with 9 sections each and beach related pictures in each square.
Make an extra set to cut out and use to "call" the items.  Or you can describe the item for them to find (i.e. "This is something we put on at the beach to protect our skin from the sun.  Right!  Sunscreen!")
Give the children seashells to cover their cards with!
Shell Sorting
Provide a sand pail full of seashells for the children to investigate.  
Provide plates or bowls for them to sort by size, color, type, etc.
VARIATION:  If you don't have seashells, make a matching game with pictures of seashells!
Pail and Shovel Match
Create pail and shovel shapes.
Laminate them.
Program them using dry erase markers.  Program with letters (match the letter A pail with the letter A shovel); numbers (match the number 1 pail with the shovel that has 1 dot on it) or by color.
VARIATION:  Use real pails and shovels for this!  Tape numbers or letters on each!
Beach Theme Music and Movement Activities and Ideas to get your Preschoolers Movin' and Groovin'!
Baby Beluga by Raffi
I enjoy anything by Raffi but this song (and the next one) are classical favorites!  Here is the link to the book and the CD if you're looking to add them to your collection!
---
| | |
| --- | --- |
| There is a 20th Anniversary CD that might have both these songs on them as well as all the other Raffi faves, but I couldn't find a table of contents for it.  It might save you a little money to buy the collection if it has all the songs you need on it! | |
---
Sing this song with the kids!  Perfect for a Beach Theme! Add body motions to the lines....encourage the children to make up the movements.
Baby Beluga in the deep blue sea
Swim so wild and swim so free
The heaven above and the sea below
See the little white whale on the go
Oh baby Beluga, oh baby Beluga, is the water warm?
Is your mama home with you so happy?
Way down under where the dolphins play
Where you swim and splash all day
Waves roll in and the waves roll out
See the water squirting out of your spout
Baby Beluga, oh, baby Beluga, sing your little song
Sing for all your friends, we'll like to hear you
When it's dark you're home and fed
Curl up snug in your water bed
Moon is shining and the stars are out
Good night, little whale, goodnight
Baby Beluga, oh, baby Beluga, with tomorrow's sun
Another day's begun, you'll soon be waking
Baby Beluga in the deep blue sea
Swim so wild and swim so free
The heaven above and the sea below
And a little white whale on the go
You're just a little white whale on the go
Down By The Bay    by Raffi
Again, another of my favorites for a Beach Theme and ANY time throughout the year!  You can purchase the CD and/or book by clicking the following links:
Down by the bay
Where the watermelons grow
Back to my home
I dare not go
For if I do
My mother will say
"Have you ever seen a bear
Combing his hair?"
Down by the bay?
Down by the bay
Where the watermelons grow
Back to my home
I dare not go
For if I do
My mother will say
"Have you ever seen a goose
Kissing a moose"
Down by the bay?
Down by the bay
Where the watermelons grow
Back to my home
I dare not go
For if I do
My mother will say
"Have you ever seen a whale
With a polka dot tail?"
Down by the bay
Down by the bay
Where the watermelons grow
Back to my home
I dare not go
For if I do
My mother will say
"Have you ever seen a fly
Wearing a tie?"
Down by the bay
Down by the bay
Where the watermelons grow
Back to my home
I dare not go
For if I do
My mother will say
"Have you ever seen a snake
Baking a cake?"
Down by the bay
Down by the bay
Where the watermelons grow
Back to my home
I dare not go
For if I do
My mother will say
"Have you ever seen an orange
Eating a blouse?
Have you ever have a time
When you couldn't make a rhyme?"
Down by the bay
Again, add the book and flannel board pieces to your library!
EXTENSION:  Have this book in your library.  You might also make a flannel board set to go with it.  This is a favorite all year long!
Sand Music Shaker Eggs
Provide the children with plastic eggs.  Have them put one spoonful of sand in it.
Tape the egg together with clear packing tape.
Use these to make music along with your favorite music this week!
Beach Theme Sand & Water Table Activities for the Senses!
The Beach By the Sea
In your sand table, place a large container of water in the middle.
Add pieces of seaweed to the water.
Hide glass jewels or seashells in the sand for a treasure hunt (or pieces of rocks painted gold!)
Add spoons, cups, etc. to the table.
Sunscreen Investigation
You will need parent permission first (due to allergies and skin conditions).
Have several types of sunscreen available to check out with the children.
Place a squeeze of each type on separate plates or bowls to smell, touch and look at.
Discuss the importance of sunscreen.
Be sure they wash their hands thoroughly after handling.
Sand Castles

Provide sand and spray bottles in your sand table.

Add sand pails and sand molds for the children to build with.

Another great option is Sand Dough by Brookstone. Click the picture to the right to read more about it.
Sand Tubes
In your sand table place play sand, paper towel tubes cut into different heights, glue, brushes and pincher clothespins (optional).  
Have a small tub of water and towels available to rinse off hands with!
The children brush glue all around a tube.
They then roll the tubes in the sand. (Use the clothespins by clipping on the edge.  The children can hold the clothespins while rolling the tube in the sand.  These are great for those children with sensory challenges).
Set aside to dry.
When dry, you can spray it with clear sealer to keep the sand on (do this outside when the children are not around...it is strong!).
Use these either for your Block Center (see Block Center suggestion in that area at the top of this page) or to use to make a sand castle by stapling them together!
(You could also cut turrets into the tops of some of them prior to the children sanding them for a nice castle top look!).
Jellyfish 
In your water table, add small ziplocked and taped baggies that are filled with clear hair gel and confetti as jelly fish!
Beach Theme Science Activities--for your Preschool Scientists in Training!
Sun Xray Photos
Have the children choose a toy from the classroom.
On a hot day, go outside and place the toy on a piece of construction paper.
Let the items sit out all day.
The sun will fade the paper around the toy!  (Just be sure your paper is not fade-free or fade resistant!).
Jellyfish In A Jar

These are pretty amazing!  

The materials you need are listed below.  

Click on the picture to check out how to make them!

Materials needed:  clear plastic bags (like produce bags), thread, scissors, water, a jar, food coloring...

You have got to check these out!  

Click the Picture link to the right to see them!
Beach Theme Discovery Bottles
Make beach related discovery bottles for the children to check out!
I use 1 liter bottles (they are easier for little hands to hold!).
Wave Bottles:  water, blue food coloring, vegetable or mineral oil.
Beach Bottles:  sand, sea shells, seaweed, small beach mammal toys
Sand Playdough
Make your own!  Simply mix in sand so that it is a bit of a rough texture.
Add it to your own homemade recipe or commercial play dough!
Shells and Magnifyers
Of course......let them check them out!
Give theme paper to record their findings!
Hermit Crabs

Yes, real ones!  They are easy to take care of!

You just need:  fish tank, food, sponge, water, variety of sized shells, sand, shallow tray for water sponge, extra shells.

The shells to the right are ones my daughter purchased for me for my birthday with my first Hermit Crab years ago (See the "I Love You Mom" shell?!
---
You can purchase them in most pet or fish stores.  My daughter purchased ours at the local mall where they had a kiosk of awesome hermit crabs!
You can also have them shipped!  Check out the options below.  
Both are from a company called Nature Gift Store.  They have a great reputation and have great reviews.
The one on the left is a Habitat AND Crabs that will be shipped to you.  Please note, the habitat instructions state that it is large enough for your Hermit Crab.  My experience is that the home is too small once you add the extra shells they need.  The habitat is PERFECT, however, for traveling them home for the weekend!
| | |
| --- | --- |
| Crabs AND Habitat | Crabs ONLY (no habitat) |
Writing Activity Ideas for Your Beach Theme!
Find The Beach Letters
Needed:  magnetic letters; magnetic board; sand pail; laminated pictures of beach items with the words spelled out
Place the letters in the sand pail.
Place the pail and the magnet board on your writing table.
The children choose a card, say the word (based on the picture) and then find the letters from the pail that match those on the card.
Ideas for cards:  pail, sun, hat, shell, sand, crab, gull, towel, fish
Beach Shell Names
Print letters inside seashells with a permanent marker.
Place the shells in a sand bin.
The children search the "beach" for the letters in their name.
They then print the letters of their name on beach themes paper.
---
Go to the main THEMES PAGE for more theme ideas!
---
Go to Preschool Plan It's Home Page
---