Custom Search
Teacher Timesavers and Tips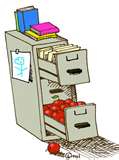 Teacher Timesavers are ideas and helpful hints we learn about to save time and energy throughout the year.
Below are some preschool teacher timesavers and ideas to add to your list to help you stay organized!  
Simply click on the picture link you want to read about!
New tips and ideas are added here throughout the year.  
Do you have some great ideas or tips to stay organized that you'd like to share?  
I'd love to add it to this page with your name!  
Contact Me and tell me what you do to save time in your preschool program!


Teacher Tips & Timesavers!
Teacher Submitted Teacher Timesavers
Simple Lesson Planning
Thank you Karen or Phoenix, Arizona for this Tip!
To make lesson planning easier for me, I made 4 x 6 cards, color coded with activities. Art is yellow; Dramatic Play is red; Science is green; Sand and Water table is orange; Music and Movement Activities is blue.
I have placed all activities on these cards. Now I just grab the cards out of my large file box and put them in the pocket of my folder for the week.
I gather materials needed and put them in a tub with the card. It is fast for me, with less hassle, and I never forget something needed for that day, nor forget why I needed 4 colors of fuzzy wires! ;)
---
Go to Preschool Plan It's HOME Page
---