Community Helpers Police Theme for Preschool

Community Helpers Police: This preschool theme will help you to inform children about the role of the police. Their job is to enforce the law. They do this in many different ways, by patrolling the streets, getting to know the people who live in the town, helping people who have accidents, directing traffic to avoid accidents and more.
This theme page is filled with preschool lesson plans, activities and ideas for all areas of your classroom.



Let the Theme Planning Begin!
You can either scroll down through this page to see all of the preschool activities for your theme or click the link below to go to specific preschool activity types you are looking for.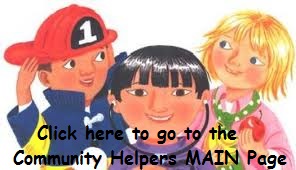 Community Helpers Police Theme Art
Paper Officers
Materials Needed: construction paper cut into different shapes (use the colors of you local police uniforms), circles (for faces), markers, wiggly eyes and glue.
Encourage the children to make their officers using the materials.
Fingerprint Pictures
Materials Needed: Washable ink pads, markers and white paper
Show the children how to use their fingertips in the ink pads and print onto paper.
Use markers to make faces on the prints. Many prints put together can make people, bugs, etc.
Badges
In advance, cut out badge shapes from manilla folders (one for each child); provide aluminum foil, beads, markers, glue and safety pins.
The children decorate their badges and then you pin them to their clothing.
I'd suggest using craft glue as it dries quicker and is not as runny.
Police Cars
Provide precut shapes (squares, rectangles, and circles) for the children to use to make their own police car.
Police Car Painting
Use police cars to dip into paint and roll on white paper.
VARIATION: Add letter recognition to this by preprinting the letter "P" on the paper for the children to follow the lines on. And then offer a plain piece for them to just paint on!

Community Helpers Police Theme Block Center Ideas
Add boxes that are the police station and police cars to the block area.
Community Helpers Police Theme Circle Time Ideas
Circle Time is such a great time for children to learn the social skills of being together as a large group AND to learn more about your theme!
Police Puppet Discussion
Materials Needed: A police hand puppet or stick puppet
Use this to introduce your theme or to recap some things you've learned about this theme.
Have the puppet ask the children if they know what type of job they do?
What types of things do I do on my job?
Have you ever met a police officer before?
Prop Bag Introduction
Fill a bag with theme related items like a badge, hat, car, walkie talkie, etc.
Take one item out at a time until the children guess what the theme is.
Continue discussion by asking what each item is and what it is used for.
Ask the children what they know about the Police and write it on a list to post.
Traffic Officer Fingerplay
The traffic officer holds up his hand (hold hand up, palm forward)
He blows the whistle. (Pretend to blow a whistle)
He gives the command. (Hold hand up in a stop motion or a move forward motion)
When the cars are stopped, (Hold hand up in a stop motion)
He waves at me (Wave hand)
Then I may cross the street, you see! (Wave hand to indicate go).
Irk! Stopped the Speeder
sung to Pop! goes the Weasel!
All around the busy town.
The police officer chased the speeder.
The siren sounded "woo, woo, woo."
And IRK! (brake sound), stopped the speeder.
Traffic Cop Song
sung to Do Your Ears Hang Low
Do you drive a car
With a flashing light on top?
When you hold up your hand,
Does the traffic have to stop?
Do you blow a whistle loud,
Standing straight and tall and proud?
You're our friend, the traffic cop!
Snack Recipe Ideas to Cook Up for Your Community Helpers Police Theme!
Cooking with children helps develop their math skills and helps them to learn how to follow directions. It also allows for some great conversation! Ask many questions while cooking with your children to encourage conversation! Be sure to ask specific themed questions while making these fun snacks!
Cookie Traffic Signals
Ingredients and Items needed: graham crackers, vanilla wafers, food coloring (red, green and yellow), powdered sugar, water, plastic knives
Mix powdered sugar with small amount of water to make icing. Mix in some food coloring.
The children place one large rectangle of graham cracker on their plate.
They frost 3 vanilla wafers--one red, one yellow and one green.
They place them on the graham cracker to resemble a traffic light.
Badge Cookies
Use sugar cookie dough, roll it out and use a star shaped cookie cutter to make a badge. Bake as directed and frost!

Community Helpers Police Theme Ideas to Transform Your Dramatic Play Area
Police Station
Add the items you will need. Try talking to the children about what is in a police station.
Some suggestions: a desk, phone, uniforms, hats, badges, a box or area for a jail, etc.
Community Helpers Police Theme Ideas for your Easel--
More Than Just Painting (Although that is always THE favorite in our classroom!)
Provide large star shaped paper on the easel. The children can decorate their "badge" and paint their names on them!
Community Helpers Police Theme Large Group Games To Help Build Preschoolers Muscles While They Have Fun Together!
Who is it?
A child is chosen to be the officer. He or she then leaves the room (but in your sight).
Another child is chosen to be lost and hides somewhere else.
The officer returns and the children say "Officer, officer, my child is lost! Who is it?"
The officer has three guesses to figure out which child is missing.
Choose another officer and repeat!
Follow the Officer
The children play this much like follow the leader. The officer tells them when to cross the street, or to hop across the room.
The difference is that they do what the officer says rather than follow the officer around.
Help, I'm Lost!
Make an obstacle course in a large area. The children follow the course to make it to the police officer!

Community Helpers Police Theme Ideas for Your Library 
Book Suggestions for the Library
I Promise I'll Find You
by Heather Ward
Policeman (Mercer Mayer's Little Critter)
by Mercer Mayer
Policeman Small (Lois Lenski Books)
by Lois Lenski
The Trouble with Secrets
by Karen Johnsen
Community Helpers Police Theme Activities To Help Your Preschoolers Develop Their Math Skills and Their Small Muscles In Their Hands!
Paper Chains and Handcuffs
Use strips of construction paper to make a chain. Show the children how to place one into another and use for a chain.
Making just two linked together could be used as handcuffs or many could be used to separate an area of your dramatic play area as the jail.
Emergency Vehicle Sorting
Provide many small cars and trucks. Have the children sort them by the type of community helper that uses each.
Police File Folder Match Game
Print out two pictures of items that go along with this theme such as a police hat, badge, handcuffs, police car, uniform.
Tape one of each inside a file folder. Laminate the folder for durability.
Laminate the matching pieces.
The children match and name each item.
VARIATION: Instead of placing one of each inside the file folder, trace out the shape of each for the children to match the laminated pieces to.
I'm Lost Maze
Make a basic maze that shows a child at the beginning and a police officer at the end. The children use their fingers to trace the path from the child to the police officer.
VARIATION: Make this into a life sized maze. See Gross Motor Activities above!

Community Helpers Police Theme Music and Movement Activities and Ideas to get your Preschoolers Movin' and Groovin'!
Safety Songs
This is a great theme to teach the children about when and when NOT to call 9-1-1 and how important this number is.  I know most teachers tend to avoid teaching this, but...it can save lives.
Community Helpers Police Theme Activities For Your Sand and Water Table!
Calling All Cars!
Add police and fire vehicles to your sand table this week!
Community Helpers Police Theme Science Activities--for your Preschool Scientists in Training!
Fingerprints  Thank you, Pam for this idea!
Materials needed: paper, index cards, pencils, clear tape, magnifying glasses
Each child's hand is traced on a sheet of paper.
Children color heavily with a pencil on an index card to make a layer of graphite.
They rub a fingertip on the graphite; stick clear tape on that fingertip and press; pull the tape off and stick to the finger on the hand outline.
Look at the fingerprints with a magnifying glass, and talk about ways police detectives use fingerprints.
More Fingerprints!  Thank you again, Pam, for this idea also!
Rub a pencil point several times on paper. Rub the child's finger in the graphite and stick a piece of transparent tape over it. Then stick the tape onto paper. After doing several of one child's fingers, observe that each print is the same. But everyone's prints are different.
Have child touch a metal box. Pour a line of powder at the edge of the box and "blow" gently. With a soft brush, very lightly brush over the box. Fingerprints will appear. Allow children to use magnifying glasses to examine prints.
Writing Activity Ideas for Your Community Helpers Police Theme!
Police Officer Maze
Find a maze activity online that has to do with police officers possibly getting to their car, directing traffic, etc. Make a few copies. Color and laminate. Place them in your writing center with dry erase markers.
Miscellaneous Activities for Your Community Helpers Preschool Police Theme!
Field Trips
Set up a time to visit the local police station for a tour.
Classroom Visitors
Invite a policeman to visit and discuss his or her job. Inquire about special programs for the children on safety. some police departments provide speakers, movies, coloring books, etc. on the subject. Be sure to let them know the age of your children as most programs are geared to the elementary age level.
---
Go to main Community Helpers Page for more Community Helper Theme Ideas
---
Go to the MAIN Themes Page for more Theme Ideas!
---
Go to Preschool Plan It's HOME Page
---