Custom Search
Community Helpers Teacher Theme for Preschool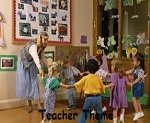 The overlooked yet important Community Helpers teachers are highlighted here! Our preschoolers love to imitate us and "play school" even when they are in school!  This theme page is filled with preschool activities and ideas for all areas of your classroom.
Let the Theme Planning Begin!
You can either scroll down through this page to see all of the preschool activities for your theme or click the link below to go to specific preschool activity types you are looking for.
Community Helpers Teacher Theme Art
Flowers for the Teacher
Materials Needed: 3" circle patterns, stem patterns, flower pot patterns made from manila folders or tagboard; construction paper in assorted colors; 12" pieces of yarn (1 for each child); crayons, scissors, glue, hole punchers, buttons (for the centers of the flowers).
The children trace three circles and one flower bot onto construciton paper.
Trace three stems on green construction paper.
Cut out.
Make petals by cutting 1" slits toward the center of the circles.
Fold every other petal toward the center.
Glue the bottoms of the stems to the back of the pot (then glue a piece of construction paper over the yarn on the back).
Dab some glue on the unfolded petals of the flowers and mount on the stems.
Glue buttons in centers.
Punch 2 holes at the top of the paper and attach the yarn as a hanger.
Painted Flowers for the Teacher
The children trace and cut out a flower pot.
Glue it onto construction paper (white).
Paint flowers!
Community Helpers Teacher Theme Block Center Ideas
Add little people and school buses to the block area this week.
Community Helpers Teacher Theme Circle Time Ideas
Circle Time is such a great time for children to learn the social skills of being together as a large group AND to learn more about your theme!
A,B,C Song!
Of course! A variation is to give each child a letter to hold. They hold it up when you sing their letter.
Story Time Teacher
When reading your story today, allow the children to turn the pages or assign a different child to hold the book and turn the pages each time you read this week!
Snack Recipe Ideas to Cook Up for Your Theme!
Cooking with children helps develop their math skills and helps them to learn how to follow directions. It also allows for some great conversation! Ask many questions while cooking with your children to encourage conversation! Be sure to ask specific themed questions while making these fun snacks!
Apples for the Little Teachers
Ingredients: Red, green and yellow apples, knife, premade chart, marker
Make a chart that has 4 columns. List each of the children's names in the first column. Draw a red apple at the top of another column, a yellow apple at the top of the next and a green apple at the top of the next.
Slice apples and present to the children.
Allow them to try each type and then, using a marker, drawing a circle or printing their names under each apple column if they like it!

Community Helpers Teacher Theme Ideas to Transform Your Dramatic Play Area
Schoolroom
Put four unused desks in two rows. In front of the desks, put a small table and chair and a table top chalkboard and chalk.
Stalk the schoolroom with chalk, an eraser, pencils, crayons, rulers, paper and old workbooks. Also have a table top felt board with felt pieces.

Community Helpers Teacher Theme Ideas for your Easel
More Than Just Painting (Although that is always THE favorite in our classroom!)
Portrait of a Teacher
Print the word TEACHER on the top of easel paper.
The children paint portraits of the teacher(s) or themselves as teachers!

Community Helpers Teacher Theme Large Group Games that help build their muscles while they have fun together
The Teacher and the Chalk
One child is the teacher. He/she sits in a chair in the front facing away from the children.
The Chalk is placed on the floor behind the chair.
The teacher closes his/her eyes.
You point to a child who tries to sneak up and take the chalk.
If the teacher hears the child, he/she says "Sit down, please" and the child returns the chalk.
VARIATIONS:
Have a child stand behind the teacher and say "Who Am I" and the "teacher" tries to identify who it is!
Community Helpers Teacher Theme Ideas for Your Library and Literacy Activities for your Preschool Classroom
Book Suggestions for your preschool classroom library:
Chrysanthemum
by Kevin Henkes
David Goes To School
by David Shannon
Don't Eat the Teacher
by Nick Ward
Miss Bindergarten Gets Ready for Kindergarten (Miss Bindergarten Books)
by Joseph Slate
Community Helpers Teacher Theme Activities to help your Preschoolers develop math skills and those small muscles in their hands!
The Big School Bus
Make an 18" long school bus from felt.
Draw 10 windows on the bus.
Make 15 childrens heads from felt.
Place the bus on a flannel board and theheads above the windows.
The children can place and count children on the bus.
In small groups, you can direct them:
Place 5 children on the bus.
Now add 2 more children.
How many children are on the bus?
Now help 3 children get off the bus.
How many children are still on the bus?
School Supplies
Place a basket or box on the table with school supplies. Have 10 of each item (10 pencils, 10 paper clips, 10 pieces of paper, etc.).
Make number cards from 1-10.
The children choose a number card and take that many school supplies out of the basket (3 pencils, 2 paper clips, etc.)
Community Helpers Teacher Theme Music and Movement Activities and Ideas to get your Preschoolers Movin' and Groovin'!



The Teacher Who Couldn't Talk

This movement/action song is from Hap Palmer's Cd called Creative Movement and Rhythmic Exploration.  Click the picture on the right to see what Amazon has available for this awesome CD!






Community Helpers Teacher Theme Activities for the Senses!
Letter or Number Match Thank you to Heather for the following idea!
Place rice in the sensory table and add magnet letters or numbers for the "teachers" match!
Community Helpers Teacher Theme Science Activities--for your Preschool Scientists in Training!
Teach them to Teach!
For this unit, take out some of your science materials that the children have not used for a while or forgot about!  Show them how to use them and that teachers teach!  Have them teach their friends new ways to use these materials.
Suggestions: Color paddles; Balance scales; Magnets
Writing Activity Ideas for Your Community Helpers Teacher Theme!
Checking Homework
The children love to copy us and they think we correct homework all the time, as most of them have older siblings or cousins who have a lot of homework! Add a variety of styles of paper in your writing center (lined, unlined, colored, etc.).  You could also add a "word box" where you have words that go with your theme printed on index cards with a picture of each word (apple, chair, child, etc.).  Laminate them and let the children practice printing by using a dry erase marker on them!
Miscellaneous Activities for Your Teacher Theme!
Field Trips
Visit a local kindergarten classroom!
Classroom Visitors
Invite parents who have different jobs they can "teach" to your children! Much like a career day!
---
Go to COMMUNITY HELPERS Main Page
---
---
Go to Preschool Plan-It's Home Page
---