Dental Health Theme for Preschool
Custom Search
This Dental Health Theme page is filled with preschool activities and ideas for all areas of your classroom.
Dental Care is but one of the personal and social development learning areas for preschoolers.
Preschoolers are learning about themselves as individuals, as family members and as part of their classroom group.
This theme helps them to develop positive habits and skills that will last a lifetime

Let the Dental Health Theme Planning Begin!

There are at least 1-2 week's worth of activities on this page!
You can either scroll down through this page to see all of the preschool lesson plans for this theme.
Or click the picture links below to go to specific preschool activity types you are looking for.

Dental Health Theme Art

Styrofoam Puppets
Materials Needed: styrofoam square shaped containers (ask for donations at a fast food place--the trays that hamburgers come in); scissors; crayons; variety of construction paper scraps; fabric scraps; yarn; glue; white foam (can use white styrofoam cups).
The children make a face on the container using the paper and fabric scraps; yarn for hair, etc. Cut teeth from the cups and glue it inside the top and bottom edges of the box.
Use the puppets by holding the box at the back adn opening and closing your hand!
Tooth Brushes
Materials Needed: precut toothbrush handles on white construction paper; pieces of yarn; crayons; glue
Children decorate the handle. They then glue the yarn on as bristles.

Tooth Printing

Materials Needed: Tooth shaped stamps*, white paint; various colors of construction paper
If you don't have tooth shaped stamps, make them by cutting out tooth shapes from foam. Glue that to a wooden block!
Children dip stamps into paint and make a dental health picture.
VARIATION: Also make stamps for toothpaste tubes, tooth brushes, floss, etc.
Floss Painting
Materials Needed: Dental floss; variety of paint colors; white paper; clothes pins (optional)
Dip the floss into paint and than drag around on the paper. Use many colors! Some children may find this easier if you use clothespins to hold the floss.
Shaving Cream Art Materials Needed: Shaving cream, paint, toothbrushes, tooth shapes on white construction paper
Mix paint in different cups of shaving cream. Children paint their teeth! (Well, their PAPER teeth!).
Clean Those Yellow Teeth!
Materials Needed: yellow contruction paper, white paint, paint brushes
After discussing why we brush our teeth, provide yellow teeth (teeth shapes cut out of yellow construction paper), white paint and toothbrushes for them to paint away!
Classroom Toothbrush
Cut out a LARGE toothbrush (about 48 inches long; the handle should be 6 inches wide and the bristles the appropriate porportions to the handle); a variety of arts/crafts supplies (fabric, ribbon, fabric, sequins, etc.); pompoms, yarn, glitter glue, crayons, markers, etc.
The children decorate a classroom toothbrush that can be hung outside your classroom (or inside!) to introduce your Dental Health theme!
Dental Health Theme Block Center Ideas
Going To the Dentist
Provide cars, a car/ road mat or carpet and little people for the children to act out driving to the dentist office, building a dentist office,etc.
Like What You See?
Join my FREE Preschool Teacher Club today and receive my weekly newsletter and a NEW theme (not found on the website!) each month that includes activities for a full week, file folder game, playdough recipe, activity mats, and more!  
Click Here to Join Today!
Dental Health Theme Circle Time Ideas
Circle Time is such a great time for children to learn the social skills of being together as a large group AND to learn more about your Dental Health Theme!
Dentist Discussion
Materials Needed: Ask the children if they have ever been to the dentist. This is a great time for the children to learn about dental care habits from each other. Give each child a turn to share their stories. Ask questions about their visits: What did they like? Not like? Etc.
EXTENSION: Have a large piece of paper available for the children to write their names on if they have been to the dentist.
A Tooth Fell Out--Puppet Show!
Materials Needed: a puppet; the story Arthur's Loose Tooth by Lillian Hoban or other story about a loose tooth falling out!
After reading the story, bring your puppet out. Let them say hi to your puppet!
Puppet: Hi girls and boys! My name is Arthur! I heard that you read a story about me! Did you like it? What was your favorite part? (Give the children time to answer!). What happened to me in the story? That's right, I lost a tooth! Well, I wrote a poem about what happened. It goes like this:
A tooth fell out and left a space.
So big my gongue can touch my face.
And every time I smile I show
A space where something used to grow.
I miss my tooth as ou cn guess.
But then--I have to brush one less!
Have the puppet talk to the kids about being teased for missing a tooth, how it feels to be teased, etc.
How I Brush My Teeth Fingerplay
Make up your own hand motions to go with the lines!
Up and down and all around.
That's the way I brush my teeth.
I brush my gums and shining fronts
Then I reach up underneath
I rinse my brush and place it
In my space to dry
And put the cap on the toothpaste tube
At least I try!
Then I look into the mirror and I grin
To show myself how good a brusher I've been.
Happy Tooth song and Flannel Story
Flannel pieces of: a tooth shape; a tooth brush; toothpaste; glass of milk; dental floss
Place each piece on the flannel board as you sing the song.
Sing the following song to the tune of Twinkle, Twinkle Little Star
I'm a happy tooth, you see
Always taking care of me.
I am brushed every day.
Keeping clean as I play.
Eating healthy, yes I do.
Floosing daily helps me, too!
Add this to the library area after circle time.
What's Missing?
This is one of my favorite transition activities but works for Circle Time as well!
Materials Needed: toothbrush, floss, toothpaste, toothpick, dental mirror or hand mirror--any dental health theme related items.
Place them out for the children to see and touch. Name each items. Have them close their eyes. Remove one item. They open their eyes and try to guess what is missing! Many preschoolers just can't 'not peek'! Try covering the items with a blanket, paper, towel, etc. instead and reach under to take one item out.
Draw a large smile on paper. Tape on index card teeth. Tape a picture of healthy and unhealthy foods on the back of each tooth.
Each child should come and "pull a tooth" and then tell if the food on the back is healthy or not healthy for teeth?
EXTENSION: Make a chart with 2 columns that read HEALTHY UNHEALTHY and then have them place the tooth under the correct column. Count how many foods are under each.
EXTENSION: Turn 2 small boxes into faces (tape on a drawn face). Cut out the mouths of each. Make one smiling and one sad. The children place the foods into the happy face if the food is good for you and the frowning face if it is not.
Snack Recipe Ideas to Cook Up for Your Dental Health Theme!
Cooking with children helps develop their math skills and helps them to learn how to follow directions. It also allows for some great conversation! Ask many questions while cooking with your children to encourage conversation! Be sure to ask specific theme questions while making these fun snacks!
The disclaimer: PLEASE, PLEASE check files for allergies..we've had a child allergic to strawberries, another to hazel nuts (all tree nuts, actually) and yet another to egg products. It is important for you to know before doing any cooking with the children.
Apple Smiles
Ingredients and Items needed: Apples; vanilla yogurt;
Core and cut apples into quarters. Children can dip their apple smiles into yogurt for a healthy tooth snack!
Grape Yogurt Snack
Ingredients and Items Needed: fruit flavored yogurt (2 or 3 different flavors); seedless grapes; small paper cups; tablespoons; plastic knives.
Discuss with children that milk products are good for our teeth because it has something called calcium in it and that gives us strong teeth and strong bones!
The children cut up 4 grapes.
They scoop a tablespoon or 2 of each type of yogurt into their cup.
They put the grapes on top!
YUM!
Dental Health Theme Ideas to Transform Your Dramatic Play Area
Dental Health Office
DENTAL OFFICE
Have a chair, dentist tools (plastic play set), hand mirrors, folders with papers that have pictures of teeth.
RECEPTION OFFICE
Table, play telephone, clipboard, pens, pencils, dolls, stuffed animals, dental books
Like this theme so far?  
Receive one new, weekly theme each month and my weekly newsletter by joining my Preschool Teacher Club!  
It's Free!  
Yes! Sign me up!
Themed Ideas for your Easel--More Than Just Painting 
(Although that is always THE favorite in our classroom!)
Tooth Themed Painting
Add tooth shaped paper to the easel.
Add old toothbrushes to the paint cups instead of paint brushes.
Dental Health Theme Large Group Games to Help Your Preschoolers Build Their Muscles While They Have Fun Together!

Tooth Toss
Materials Needed: ping pong balls, velcro, large poster board with a drawing of a large smile with the teeth showing.
Place velcro strips on the ping pong balls and the hook part on areas on the teeth on the poster board.
The children toss the balls onto the smile!
Toothbrush Toss
Provide old toothbrushes and a bin to toss them into.
Tape a line on the floor or carpet and encourage the children to toss them into the bin without crossing the tape line!
Drop the Brush Into the "Mouth"
One teacher had large mouth plastic containers (like juice containers) and had the children try to drop the toothbrushes into the container by holding the toothbrush about an inch or so over the opening!
Dental Health Theme Ideas for Your Library and Literacy Activities for your Preschool Classroom

Book Suggestions for the Library

Arthur's Loose Tooth (I Can Read Book 2)
by Lillian Hoban
The Berenstain Bears Visit the Dentist
by Stan and Jan Berenstain
The Crocodile & the Dentist
by Taro Gomi
Going to the Dentist (Usborne First Experiences)
by Anne Cirvardi
I Lost My Tooth! (Hello Reader!, Level 1)
by Hans Wilhelm
Just Going to the Dentist (Little Critter) (Golden Look-Look Books)
by Mercer Meyer
Little Rabbit's Loose Tooth
by Lucy Bate
My Dentist
by Harlow Rockwell
My Tooth Is About to Fall Out (Scholastic Reader Level 1)
by Grace Maccarone and Betsy Lewin
The Prince's Tooth is Loose! (I'm Going to Read Series, Level 1)
by Harriet Ziefert
Timothy tiger's terrible toothache (A Little Golden book)
by Jan Wahl
Flannel Pieces


In this example to the right (I apologize for the fuzziness of the picture!), the children can match the toothbrush with the corresponding color tooth face!

In the library, provide a flannel board. Have dental health flannel pieces available for them to use while reading books, singing songs you have taught them during this theme or just to use while talking about their own experiences! Have flannel pieces such as toothbrushes, teeth, toothpaste, toothpaste cap, floss, healthy foods, dentist, dentist chair, etc.
Dental Health Theme Math Activities to Help Your Preschoolers Develop Their Math Skills and the Small Muscles in Their Hands!

Lace A Tooth
Materials Needed: Tooth shapes cut out of colored poster board; colored laces, hole punch
If you don't have tooth shape lacing cards, make them! Cut out a tooth shape from colored poster board. Hole punch around the edges. Provide laces with a knot in one end.
Provide other dental health items as lacing cards such as floss shapes, toothpaste, etc.
Tooth Matching
Materials needed: pictures of different types of teeth--2 pictures of each (shiny, rotted, yellow, chipped, molars, front teeth,etc.). Glue the pictures onto poster board and laminate for durability.
The children match the pictures.
How Many Teeth?
Materials Needed: Hand mirrors, paper, crayon or marker. Let them try and count how many teeth they have!
EXTENSION: Have a paper with each child's name on it (or, encourage them to write their own names). Have number cards. Encourage them to write the number of teeth they have on top on their paper. Post on a chart of How Many Teeth in your classroom.
Tooth Making and Counting

Make a drawing of an open mouth with squares for teeth as pictured above; playdough
I'm not sure where we got this playdough mat from, but you could make your own!
Have children use playdough to make teeth and place one tooth in each square. Encourage them to count the teeth. This provides great fine motor practice, counting practice and one-to-one correspondence practice!
Dental Health--How Many Teeth?
Materials Needed: pink playdough and small craft sticks
Have children manipulate playdough into an oval shape. Give them each 20 small craft sticks. Tell them that children have 20 teeth, called baby (or decidious) teeth. They then count out and place 20 sticks into their playdough gums!
Adults have 32 adult teeth, including wisdom teeth! Perhaps they would like to count to 32!
Dental Health Theme Music and Movement Activities and Ideas to Get Your Preschoolers Movin' and Groovin'!

Want MORE themes?  

Of course-we all do!  

Join my club and receive a new theme each month AND
I'll send you valuable information in my weekly newsletter.  

Becoming a member is FREE!  
Yes! Sign me up!
Brush Your Teeth Song sung to the tune of Row, Row, Row Your Boat
Brush, brush, brush your teeth,
Brush the germs away!
Happy, healthy teeth you'll have,
By brushing everyday!
Floss, floss, floss your teeth,
Floss the germs away.
Happy, healthy gums you'll have,
By flossing every day!
Healthy Teeth Song sung to the tune of Row, Row, Row Your Boat
Eat, Eat healthy foods
Eat some every day
If you do, "I Love You"
is what your teeth would say!
Brush, brush, brush your teeth.
Brush them every day!
Brush the fronts and brush the backs
And clean your teeth will stay!
Visit, Visit, Visit the dentist,
two times every year!
The dentist helps your teeth stay healthy
So you can smile from ear to ear!
EXTENSION: The 3 things children can do to keep their teeth healthy are in this song: eat healthy foods, brush and visit the dentist! Make up your own certificate that says "Ask Me What 3 things I can do to keep my teeth healthy! I KNOW!" Print their name and sign and date it from you! Send them home!
Got My Toothpaste Song sung to the tune of Twinkle, Twinkle Little Star
Got my toothpaste, got my brush,
I won't hurry, I won't rush.
Making sure my teeth are clean,
Front and back and in between.
When I brush for quite a while,
I will have a happy smile!
I'm a Tube of Toothpaste!
For this movement activity, ask the children what they think it would be like to be a tube of toothpaste? A toothbrush? Floss?
Have these items to show them and let them hold them.
Then, act them out!
Example: A tube of toothpaste! OK, you're in the tube...way at the bottom! Now, you're being squished, up, up, up and POOF out of the tube!
Dental Health Activities for the Sand and Water Table!
How to Brush
Materials Needed: shaving cream; plastic mouth models OR egg carton cups (3 or 4 still connected); toothbrushes
Show children how to brush in the front, back and in between "teeth".
This smells like toothpaste!
Add peppermint, strawberry or orange food extract to your water table!
Brushing Teeth
Add toothbrushes to your water table. Add small baby dolls that are smiling to brush teeth! Or, add the foam egg cartons and pretend they are alligator teeth for them to brush (and scoop water with!).
Dental Health Theme Science Activities--for Your Preschool Scientists in Training!

Dental Health Experiment Journals

Provide tooth-shaped paper for the children to draw and record all they learn and the experiments they do during this theme!
Dental Health Tile Food Experiment
Materials needed: ceramic tiles (you can get donations of broken ones from a home improvement store); mustard, honey, ketchup, toothbrush, toothpaste
Tell them, " Sometimes we are too tired or forget to brush our teeth before we go to bed. I wonder what would happen to our teeth if we forgot to brush for a lot of days! Let's find out!"
Give each child a tile. Have them write their name on the tile with a permanent marker. Squirt a little bit of the food items on their tile.
Have them spread it all over the tile. Tell them that you are going to let this food sit on the "teeth" for a day and see what happens.
Then, take out the tile you made yesterday and show them what happened to your "tooth". Let them take a turn trying to brush off the food with a toothbrush and toothpaste.
The next school day, take out the chilren's tiles and give them a toothbrush and toothpaste to brush their teeth in the science center.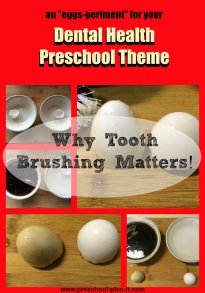 Dental Health Tooth Experiment

Materials Needed: white egg (cracked, emptied and washed out with soap...keep both halves of the shell); soda (Coca-Cola works best); 2 clear jars; a toothbrush; toothpaste.
Discuss the importance of toothbrushing. Give each child a hand mirror and ask what they see when they look at their teeth. Write down what they say.
Ask them why we brush our teeth and again, write down what they say.
Tell them that cavities are caused by not brushing the sugar and food off of our teeth. Soda has a lot of sugar in it.
Place one egg shell in one jar and the other in another jar.
Add Cola to one jar...pour in enough to cover the egg shell. Tell the children this is like someone's tooth. They are drinking soda.
Add water to the other...pour in enough to cover the egg shell.
Let sit for the day. Ask the children what they think will happen. You can record their answers to this as well.
After the day, check on the egg shells.
Take the egg out of the water and ask them what happened. Record their answers.
Take the egg out of the cola, ask them what happened. Record their answers.
Now, take the toothbrush and toothpaste and gently brush the egg shell (careful-it is very fragile now!) and ask the kids what happened when you brushed the pretend tooth?
Record their answers!
VARIATION: Thanks, Pam, for this suggestion!
Use 2 clear cups, 2 eggs, vinegar, cola, toothbrush, toothpaste, and a magnifying glass.
Soak an egg in a cup of cola and a second one in vinegar.
Overnight the eggs will turn brown and the other one will lose it's shell.
The cola one can show what happens if you don't brush (It will come off with a toothbrush and toothpaste).
The second one shows that if the acid continually builds up in your mouth, it will decalcify, just like the egg.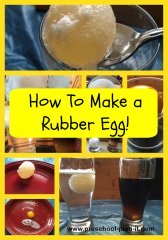 Acidic Teeth

Materials Needed: 1 hard boiled egg; glass jar; white vinegar
Tell the children that some foods are what we call "acidic" and can hurt the enamel of our teeth.
Place the egg in a jar and pour in enough vinegar to cover the egg.
Let sit for 24 hours. Children should observe it throughout the day. They will see small bubbles forming on the eggshell.
The next day, take out the egg and rinse it. 
All of the eggshell will be gone. The vinegar is an acid that decalcifies the egg shell much like acids in food do on our teeth.
Here's my video demonstration:
Home Made Toothpaste
Materials Needed: zipper baggies, plastic teaspoons, baking soda, salt, water, food flavoring extract (strawberry or orange).
Make rebus directions (explained below) for making toothpaste.
Once children add the ingredients to their baggie, zip the baggie and have the children squish the ingredients until well mixed.
They can taste it and YES, brush with it!
ADD:
1 teaspoon salt
1 teaspoon water
4 teaspoons baking soda
1 drop of food flavoring
Rebus directions are picture directions that allow the children to "read" the print by "reading" the pictures!
Use 5 large index cards. Draw one step on one card.
Card one will have a picture of a baggie. Print on bottom "Open bag."
Card two will have 1 teaspoon traced on it. Print on bottom "Add 1 teaspoon"
Continue for all steps!
The children can then go from one step to the next to make their toothpaste by themselves (observed/supervised by you of course!).
Tooth Brushing Thank you, Pam, for the following 2 ideas!
Use the bottom of liter soft drink bottle cut off and painted white. Provide old toothbrushes to practice brushing!
Flossing
Paint one side of an egg carton to look like teeth and gum.
Use string to practice flossing!
Writing Activity Ideas for Your Preschool Classroom's Dental Health Theme!

Tooth tracing and Dental Health Words
Materials needed: Provide tooth shapes (made on cardboard or manilla folders for durability); markers or colored pencils; scissors; dental health word cards (such as index cards with the words and pictures on them of: TOOTH, DENTIST, CAVITY, BRUSH, etc.).
The children trace and cut out their teeth. They can decorate with markers or colored pencils and write words on it as well!
Magic Teeth
Materials Needed: Tooth shapes you have cut out and laminated; low-odor dry erase markers
Provide these materials at your writing table. Encourage the children to write their names, draw, etc. They can erase their writing with a facial tissue and use over and over again!
Dental Health Miscellaneous Activities
Dental Office Field Trip
Yup, you knew it was coming! Visit the dental office! If you can not arrange this with your group, invite a pedodontic dentist or hygienist to visit your center. Offer for them to give you brochures about their office so that you can sent them home with the children (free advertising for them!).
Brushing Chart
Encourage children to brush their teeth by printing and sending home a chart.
Colgate has a cute, free chart you can print out!  CLICK HERE to check it out!
EXTENSION: Call the chart "homework" and ask that they bring it back completed in a week!
Don't forget to sign up for my FREE Club!
You'll receive a weekly article to help support you in your work with preschoolers 
AND
A new theme not found here on my website filled with printables and activites for you to 
Print.  Cut.  Laminate.  Use!
Yes! Sign me up!
Other Themes You May Be Interested In:
---
Go to the main THEMES PAGE for more theme ideas!
---
Go to Preschool Plan It's Home Page
---