Fall Preschool Activities Theme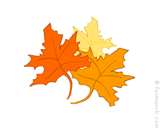 Fall Preschool Activities--Fall, Autumn--either word brings cool days and relief to summer heat for most people! This theme page has many preschool activities and ideas for your classroom. This theme is related to other theme pages such as pumpkins and apples! You will find links below to go to those specific pages for more activities! Please let me know if you have more activities you feel should be added to this page!
Let the Fall Preschool Activities theme planning begin!
You can either scroll down through this page to see all of the preschool activities for your Fall Preschool Activities Theme or click the link below to go to specific preschool activity types you are looking for.
FALL PRESCHOOL ACTIVITIES
Circle Time Activities Cooking Recipes
Dramatic Play Ideas Easel Ideas
Gross Motor Games Library and Literacy
Math And Manipulatives Activities Music and Movement
Sand and Water Table Science Activities
CLICK HERE FOR THE PUMPKIN THEME PAGE
CLICK HERE FOR THE FALL LEAVES THEME PAGE
Art Activities
Fall Preschool Activities Theme Art
Glittery Pine Cones
Materials Needed: Pine cones, glue bottles, mini pom-poms and small glitter glue bottles.
The children use the glue to place pom poms on their pinecones. They could also drizzle glue on the cones and then sprinkle glitter on them (or use glitter glue to decorate the ends of the pine cones). We've also used plaster-of-paris to make a base for the pine cones. Another suggestion was to dip the pine cones in glue and then roll them in shaved crayon pieces.
Autumn Wreath
Materials Needed: pine needles, green and brown leaves, pine cones, cinnamon sticks, glue, paper plates with the middles cut out.
The children can make a great wreath with these materials and others you may think of.
Nature Collage
Materials: leaves, twigs, etc. that you collect on a walk or that you ask the children to bring in during the week. Use them to make a group Autumn collage.
Fall People
Using fall items from outside, encourage children to make a fall face on a paper plate!
Block Area
Fall Preschool Activities Theme Block Center Ideas
Fall at the Farm
Place little people, farm animals and farm equipment (trucks, tractors, etc.), leaves and hay in your block area!
Circle Time Activities
Fall Preschool Activities Theme Circle Time Ideas
Circle Time is such a great time for children to learn the social skills of being together as a large group AND to learn more about your theme!
Autumn Fingerplay
Autumn winds begin to blow (blow).
Colored leaves fall fast and slow (move hands to show falling leaves)
Twirling, whirling all around (turn around a few times)
Until at last, they touch the ground (fall to the ground).
What do we wear in Fall?
Bring a bag full of fall weather clothing that you wear and also some from summer.
Talk with the children about fall weather and what it is like.
Pull out each article of clothing and ask if it is for summer or fall?
I Spy---Fall Colors!
Play I spy at circle time with the children looking for fall colors. "I Spy with my little eye......something red!" Let each child take a turn either walking over to a red item and pointing it out or naming an item while sitting at circle time. List what they find on a chart under each color.
Feely Box
Place fall items in a box or bag and have each child feel to guess what each item is.
Cooking Recipes
Snack Recipe Ideas to Cook Up for Your Fall Preschool Activities Theme!
Cooking with children helps develop their math skills and helps them to learn how to follow directions. It also allows for some great conversation! Ask many questions while cooking with your children to encourage conversation! Be sure to ask specific themed questions while making these fun snacks!
Apple Salad
Ingredients and Items needed: 6 apples, 1/2 cup raisins; 1/2 teaspoon cinnamon; 1/4 cup of white grape juice.
Peel the apples. Let the children help cut them with plastic knives. Place them into a bowl. Have the children help put the rest of the ingredients in and let each one take a turn stirring it up!
Dramatic Play Ideas
Fall Preschool Activities Theme Ideas to Transform Your Dramatic Play Area
Fall Cooking
Place pretend (or real!) pumpkins, apples, pie plates, etc. Include pictoral charts for the children can pretend to make desserts!
Fall Clean-up
Place leaves in your dramatic play area on the carpet or floor and add child-sized rakes for clean up! They can place them into a large, paper bag and then empty to do it again!
Farm Stand
Place a cash register, table, brown grocery bags, play and real apples and pumpkins, shopping carriages, empty and clean apple cider and apple juice containers, corn on the cob and other fall items in your dramatic play area.
Easel Ideas
Fall Preschool Activities Theme Ideas for your Easel--More Than Just Painting (Although that is always THE favorite in our classroom!)
Fall Colors
Provide red, yellow, green, orange and brown for fall pictures.
Or, provide red, blue and yellow for the children to make their own fall colors at the easel!
Gross Motor Games
Fall Preschool Activities Theme Large Group Games that help build their muscles while they have fun together
Parachute Fun with Leaves!
Thank you, Emma, for this great idea!
Use real leaves or paper leaves from Dollar Store for this game.
Sing song: (sung to the tune of Wheels on the Bus)
The leaves on the tree come falling down,
Falling down, falling down.
The leaves on the tree come falling down,
Let's rake them up.
Shake parachute slow then speed up. The leaves will fly off!
After all leaves are off parachute then have kids pick them up and put them back on the parachute.
Library and Literacy
Fall Preschool Activities Theme Ideas for Your Library and Literacy Activities for your Preschool Classroom
Book Suggestions for the Library
Autumn Days by Ann Schweninger
Frederick by Leo Lionni
How Do You Know It's Fall? by Allan Fowler
It's Fall by Linda Glaser
Mouse's First Fall by Lauren Thompson
The Busy Little Squirrel by Nancy Tafuri
The Oak Inside the Acorn by Max Lucado
The Seasons of Arnold's Apple Tree by Lois Ehlert
When Autumn Comes by Robert Maass
White Rabbit's Color Book by Alan Baker
Math And Manipulatives Activities
Fall Preschool Activities Theme ideas to help your Preschoolers develop those small muscles in their hands!
Scarecrow Matching
Materials: Make several copies of Scarecrows or Scarecrow faces (with hats!). Print different numbers on the hats. Make a LOT of black crows. Laminate all pieces.
The children count out the number of crows to match the number on the scarecrow hat.
Hi Ho Cherry-O
This is a great game to practice their eye-hand coordination, one-to-one correspondence, counting and turn taking skills all at one sitting!
Music and Movement
Fall Preschool Activities Theme Music and Movement Activities and Ideas to get your Preschoolers Movin' and Groovin'!
Autumn Song Thank you to Jennifer for submitting this idea!
I play the "Autumn Song" by Ms. Healy (which I got off of youtube). I also make and provide props to correspond with the song and have the children move accordingly.
Sand and Water Table
Fall Preschool Activities Theme Ideas for the Senses!
Sink or Float?
Add fall items to your water table for the children to guess and then test what will sink and float: pumpkins, gourds, pince cones, leaves, etc.
Fall Playdough for the Senses!
Place red kook-aid playdough mixed with cinnamon in your table!
Making Fall Colors
In advance, place a couple of teaspoons of 2 different colors in a ziplock baggie. Seal and tape shut. Leave these at the sensory table for the children to make new colors--right before their eyes!
Blue & Yellow
Red & Yellow
Science Activities
Fall Preschool Activities Theme Science Ideas--for your Preschool Scientists in Training!
Fall Observation Station
Materials: Magnifying Glasses, journals (made with plain paper and covered with construction paper--we've left one at the science table for each child); any fall items you have in your area: pumpkins, gourds, apples, hay, leaves, pinecones (remember that acorns can be dangerous for any child with tree nut allergies), etc.
Weigh Station
Materials: Small balance scale and fall items (pine cones, leaves, twigs, gourds, etc.). Let children compare which items are heavier than others by placing 2 different items on each side of the scale. Remember, most preschoolers have not used one of these scales before! This is a GREAT small group activity to introduce at circle time so that they can use it independently at your science center!
Writing Activities
Writing Activity Ideas for Your Fall Preschool Activities Theme!
Fall Stamping
Materials: paper, markers, stamp pads and fall stamps (leaves, farm animals, etc.), stencils. Encourage the children to draw and/or stamp a fall scene and then print their story on paper to display with their art work.
Go to MAIN THEMES Page from this Fall Preschool Activities Page