Spring Activities Theme for Preschool
Custom Search
Ahhh, spring activities time!
Finally!
For those of you who have, or still are, "surviving" the winter weather in your area...let's think SPRING!
This theme is endless in the possible activities and adventures for this season.
This page is a Welcome to Spring theme page.
You will find links on this page for other sub-themes for spring as well.
Let the Spring Theme planning begin!
You can scroll down through this page to see all of the preschool activities for your Spring Theme.
Or click the picture link below to go to specific preschool activity types you are looking for.
Art Ideas for Your Spring Activities Theme
Budding Trees
Materials Needed: White construction paper, green and yellow tissue paper, brown crayons, glue
The children draw a tree trunk...any shape is acceptable: tall, skinny, wide, etc.
Show them how to crumple pieces of tissue paper into little balls for tree leaf buds.
They dip their "buds" into glue and cover their trees!

Tissue Collages
Materials Needed: wax paper, liquid starch or watered down glue, colored tissue paper
The children dip the paper in the starch or glue and place all over the wax paper (or you can use construction paper). When dried, these look beautiful! You can use construction paper as well!

Spring Collage
Materials Needed: Go for a walk and collect nature items (leaves, pine needles, etc.) and bring them inside to make a spring collage!

Mud Paint
Materials: Fingerpaint paper, red, green and yellow fingerpaint!
Let the kids explore the paint and make some mud with it!
EXTENSION: Provide some grass from outside (or grass seed!) to mix in with their paint for a very cool texture and look!

Sky Picture Ideas
With spring comes rain and sometimes storms!
Materials Needed: light blue paper, white, dark blue and gray paint, pre-cut lightning bolts
While the children are painting, talk to them about weather in spring. Lightning, rain, clouds, sun, etc.

Sun Marble Painting
Materials needed: Paper precut into large circles; yellow and orange paint watered down a little bit, marbles
Place circles into box covers or pie pans. Place a some paint on the paper and a few marbles. The children shake the box or tin to roll the marbles around for a sun!
EXTENSION: When dry, our kiddos love to glue on googly eyes and draw faces on their suns as well as cut out sun "rays" to glue on from different colors!

Newspaper Spring Hats
Materials: To make the hats: sheets of newspaper (double page spreads--2 for each child); masking tape
To decorate the hats: glue, miscellaneous arts and craft materials--sequins, yarn, ribbon, paper scraps, artificial flowers, etc.
Place one double page paper on the child's head lengthwise from front to back. Then place the second sheet over that one from side to side. Mold to child's head.
Have child hold paper on their head by placing their hands on the top of their heads on the paper.
Using masking tape, wrap around the paper about where there ears are to make a band for it so fit.
Write their name on the hat.
Bring hats to the art table to decorate!
Block Ideas for Your Spring Activities Theme
Place small colored blocks in your block area along with large wood unit blocks. You'll be surprised at the flowers and other spring shapes that can be made from these!
Like What You See?
Join my FREE Preschool Teacher Club today and receive:
A full theme each month that includes-
Calendar pieces; a file folder game; a playdough recipe, activity mats and more!  
Circle Time Ideas for Your Spring Activities Theme
Spring Activities Theme Circle Time Ideas

Circle Time is such a great time for children to learn the social skills of being together as a large group AND to learn more about your Space Theme!

Find the Spring Colors
Materials Needed: Different colors of construction paper or colored plastic eggs. Give one to each child. One at a time, have the child walk over to something in your classroom that matches the color and they yell "I found ____(blue)!"

Spring Items
Materials needed: Bring a large piece of chart paper and a box of spring clothing items to circle time (umbrella, raincoat, rainboots, hats, etc.)
Ask the children how they need to dress in springtime. List their answers on the chart paper.
Show them each of the items you have for a great discussion of the spring items they have at home!

5 Little Clouds
Materials Needed: 5 cloud shapes--you can use them on a flannel board or make small clouds and tape them to your fingertips as you teach the children this fingerplay!
Five little clouds floating in the sky.
One saw a bird and wanted to fly.
Four little clouds floating in the sky.
One saw a friend and went to say "Hi.".
Three little clouds.......One was sad and started to cry.
Two little clouds.......One saw the bright sun and say, "Oh My!"
One Little cloud alone in the sky.
Went to find the others and said, "Bye bye!".
EXTENSION: Give each child a piece of white paper to act this out with you!
Snack Ideas to Cook Up for Your Spring Activities Theme
Cooking with children helps develop their math skills and helps them to learn how to follow directions. It also allows for some great conversation! Ask many questions while cooking with your children to encourage conversation! Be sure to ask specific Space theme questions while making these fun snacks!


Colored Stew
A colleague of mine used to make this every year and the kids loved it!
Ingredients and Items needed: Cook together 1 cup of corn starch, 4 cups of water, 1/3 cup of sugar.
Pour into separate ziplock baggies. Add a few drops of food coloring. Seal bags and let the kids squish the bags of stew!

Sunshine Muffins
Ingredients and Items Needed: English muffins and grated yellow cheese!
Have the children, supervised, help you grate the cheese if you like! Or, provide grated cheese for the children to place on their english muffin half. Broil in oven until cheese is melted.
Spring Activities Theme Ideas To Transform Your Dramatic Play Area
Housekeeping
Bring spring fever or spring cleaning into your housekeeping area. Provide a small, shallow bin with soapy water to wash dishes and towels to dry them, a pretend vacuum cleaner, etc.
Spring Activities Theme Ideas for Your Easel--
More Than Just Painting
(Although that is always THE favorite in our classroom!)

Q-Tip Painting
Materials Needed: Instead of brushes, provide Q-Tips for the children to paint with! It helps their fine motor skills and they'll make some great designs as well as great color mixes by using smaller amounts of paint!

Spring Sky
Materials Needed: Blue and white paint, white paper
Your children will create some of the most beautiful shades of blue and clouds!
EXTENSION: When dry, use these as a backing to a bulletin board!
Spring Activities Theme Large Group Games To Help Your Preschoolers Build Their Muscles While Having Fun Together!
PUDDLES!

Materials: I'm all for just going outside and jumping in puddles if the children all have boots with them! Go for it!

CLEAN Puddles?!
However, if you're looking for a cleaner version of mud (hmmm, oxymoron?!!), cut out some puddle shapes out of brown paper and place them in a large area of your carpet covered with either clear contact paper or wax paper. Let the kids "skate" over them with their socks on or jump from puddle to puddle.
Add in some math and counting by having them count as they jump on each puddle--some gross motor 1-1 correspondence for them!

Be a Cloud!
Materials needed: Provide white fabric, blankets,etc. and let the children use them as capes as they pretend to be clouds! You can do this inside or out!
EXTENSION: Lay on the blankets outside and check out the clouds after reading It Looked Like Spilt Milk
EXTENSION: Play music of different tempos (fast, slow, etc.) and they can move like clouds to that pace!

Parachute Spring Activities
Talk to the children about spring things while using the parachute and move the chute to go with the discussion:
There was a LOT of snow, it was this high! Then it began to melt, and melt and melt (chute slowly lowers).
It rains in the spring, sometimes lightly (up and down slowly with the chute)...and sometimes HARD (shake chute a lot!)
continue on about seeds that grow, flowers that get bigger and bigger, etc.!

Spring Cleaning
Bring sponges and soapy water outside to clean up your riding cars or classroom chairs! It's like a car wash!
Want MORE themes?  Sign up for my FREE Club!
You'll receive 1 free weekly theme each month that has printables, games and more!
I Want In! Click To Join!
Spring Activities Theme Book Ideas for Your Library
Clifford's Spring Clean-Up
by Norman Bridwell
Hi, Clouds
by Carol Greene
The Cloud Book
by Tomie dePaola
Dinofours: We Love Mud
by Steve Metzger
Dinofours: Rain! Rain! Go Away
by Steve Metzger
It Looked Like Spilt Milk
by Charles Shaw
Peter Spier's Rain
Spring Activities Theme Ideas To Help Your PReschoolers Develop Their Small Muscles & Their Math Skills!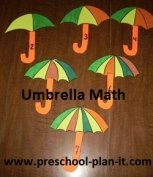 Umbrella Number Matching
Materials Needed: In advance, make umbrella tops and handles as shown in the picture above.
The children match the handle to the umbrella with the corresponding number of sections!
VARIATION: Program the umbrellas with letters either matching capital letters or matching the capital letter to the lower case letter.

Bird Sticks
Materials: Pre-drawn circles, pre-drawn small orange or yellow triangles, googly eyes, craft sticks, glue sticks, markers or crayons, scissors-Also, be sure to encourage children to cut out their own circle shapes as well.
The children practice cutting by cutting out the circles. They color these any colors they want to make their birds!
They then cut out a beak. Glue on the eyes and beak and then tape or glue onto craft sticks....they can color the craft sticks as well...they look great as branches!
They now have great birds to use for any spring fingerplays or poems!


It's A Spring Thing!
Materials: magazines with spring pictures or spring stickers, green paper, blue paper, scissors, glue
While you're in a cutting mode, teach the children to "fringe" cut. Provide them with a half sheet of green paper (cut lengthwise) to fringe. I have drawn thick, black lines on the paper to show them where to cut if they are new to fringing.
They glue the fringed green paper onto the blue paper. They now have grass and sky.
Encourage them to place their stickers or glue their spring pictures from the magazines on, above and under their grass for a great Spring Thing!
Spring Activities Theme Music and Movement Ideas To Get Your Preschoolers Movin' and Groovin'!
Rhythm Stick Flower Power

Give each child 2 rhythm sticks (or dowel posts work well also!).
After reviewing how seeds grow, act it out with the sticks.
The seeds are quietly in the ground.
They are starting to grow.
The rain is pouring!
The sun is out, quietly!
Now the seeds are growing and growing, etc.
Add items as you see fit. Try counting flowers. "8 flowers grew!" Then they tap out by hitting the sticks together 8 times.

"Wrappin'" to the Rain!
Provide bubble wrap and a large space. Play fast and slow music, intermittently, to represent light rain and spring showers! Lot's of wrappin' fun here!
Spring Activities Theme Ideas for Your Sand & Water Table
Clean Mud

Provide: 2 rolls of toilet tissue, 1 1/2 bars of ivory soap and 2 quarts of warm water. The children mix and squish this all together for clean mud. OR, you can mix the water and soap in advance and let the kids add the toilet tissue! They will LOVE the fact that they are playing with toilet paper! Lots of giggles!

Mud
Why not?!! Put sand or dirt (potting soil) in your sensory table and spray water bottles. Add spoons, cups, small bowls for mud pies and other fun activities!
NOTE: Be sure to leave the table uncovered overnight so it can dry up overnight as well as not begin to mold.
Spring Activities Theme Ideas for Your Preschool Scientists in Training!
Bird Nest

If you can find a deserted bird's nest, let the kids investigate it!
Also, make a bird's nest! Provide lint from your lint dryer, sticks, twigs, pieces of fabric. Place it at your science center for the kids to explore. Place it all in a can or bowl and hang it outside. The birds will take the material to make a nest with!

Spring Has Sprung!
Materials Needed: large sponges, bucket of water, grass seed
The children immerse a sponge into water and SQUEEEZZZEEE out the water.
Sprinkle the sponge with grass seed and watch it grow over the next week or so! Welcome Spring!
Writing Ideas for Your Preschool Classroom's Spring Activities Theme
Weather Pictures

Materials Needed: Paper, markers and weather stickers
The children use the materials to make a picture of any type of weather they want: snow, rain, windy, etc.
Miscellaneous Ideas for Your Spring Activities Theme
Signs of Spring

Take a walk or check out your outside area for signs of spring: Do you hear birds? See buds on trees? Mud? Collect items you can from outside and then place them in your Spring Science area for the children to check out during the week.
Other Pages You Might Be Interested In:
Like What You See?
Join my FREE Preschool Teacher Club today and receive:
A full theme each month that includes-
Calendar pieces; a file folder game; a playdough recipe, activity mats and more!  
---
Go to Preschool Plan It's Home Page
---