St Patricks Day Activities Theme for Preschool

St Patricks Day Activities- leprechauns, rainbows, shamrocks! The possibilities for activities are endless. They can range from information about the legend of leprechauns, colors, rainbows, shapes and more. As you plan, check out our favorite St Patricks Day activities below!
This one day theme page is filled with activities and ideas for all areas of your classroom.
Let the Theme planning begin!
You can either scroll down through this page to see all of the preschool activities for your this theme or click the link below to go to specific preschool activity types you are looking for.
ST PATRICKS DAY THEME ACTIVITIES
Circle Time Activities Cooking Recipes
Dramatic Play Ideas Easel Ideas
Gross Motor Games Library and Literacy
Math And Manipulatives Activities Music and Movement
Sand and Water Table Science Activities
Writing Activities Miscellaneous Activities
Art Activities
St Patricks Day Activities Theme Art
Driving on the Rainbow
Materials Needed: Small toy cars, paint (using all the colors of the rainbow), paper
Children dip the cars' wheels into the paint and drive the car in an arch shape on the paper.
They continue with each color to make their own rainbow!
VARIATION: To help develop their fine motor control, try drawing the arched lines on the paper prior to the activity and encourage the children to drive the car on one of the "roads" (lines drawn).
EXTENSION: For those children ready to follow the color order of a rainbow, show them a rainbow picture and encourage them to try to drive their rainbow colors in the same order as a rainbow they would see outside!
Shamrock Printing
Cut bell peppers in half and use for painting (they are shamrock shaped when cut across the short way, not lengthwise). Provide blue and yellow paint and see what shades of green you can make!
EXTENSION: Thoroughly wash peppers after the children are done using them and use in your science area for planting grass seed! See the science activity section below for instructions.
Bubble Rainbow Prints
Materials needed: cups, straws, water, dish detergent, paint in a variety of colors.
Fill each paper cup about half full with water. Add a few drops of bubbles or dish detergent. Add a few drops of paint.
The children insert the straw into the cup and blow until the bubbles come over the top of the rim of the cup. Then, place a paper on top of the bubbles. The bubbles pop into color on the white paper.
VARIATION: Just let the children blow until the bubbles cascade over the sides of the cups onto their paper. They can then switch cups to make another color!
Marker Rainbows
Materials Needed: Markers, white coffee filters, spray bottles
The children draw and color the coffee filters. Once they spray it with water, the colors spread! This is an all year favorite in our classroom...the children make MULTIPLES of these! They dry very quickly and are very colorful!
Pot Of Gold
Materials Needed: Precut black paper into the shape of a pot; gold glitter paint; white crayon; hole punch; ribbon or yarn.
Encourage the children to write their names on their Pot with the crayon.
Flip the paper over and the children paint their gold on the other side!
When dry, hole punch (or have the children hole punch) the outsides of the pot.
Provide ribbon or yarn for them to practice lacing.
St Patricks Day Collage Activity
Precut shamrock shapes on green construction paper; box of green collage materials (yarn, fabrick, ribbon, glitter, glue, buttons, etc.)
Add greed paint to the glue and mix. Collage away!
EXTENSION: Draw the shamrock on a large piece of construction paper for children to practice cutting skills.
Return to Top
Block Area
St Patricks Day Activities Theme Block Center Ideas
Rainbow Roads
Place colored blocks in your block area. There are many available such as colored foam blocks, colored cardboard blocks (that look like bricks), etc. The children can make rainbow roads, cities and more!
Return to Top
Circle Time Activities
St Patricks Day Activities Theme Circle Time Ideas
Circle Time is such a great time for children to learn the social skills of being together as a large group AND to learn more about your St Patricks Day Activities Theme!
Which Color Is Missing?
Bring different colored shamrock (or other colored shapes) of paper to circle time. Have children name colors. They cover their eyes, you take one colored shape away. They guess which color is missing.
We find that the same children tend to answer all the time. To prevent this, we work on patience and waiting our turns! We ask "Who wants a turn guessing the missing color?". ONLY the person whose turn it is can guess. They do develop better patience and waiting abilities over time!
Color Chart
In advance, prepare a chart that has all of the colors listed on the left hand column. In advance, also prepare pieces of paper with the children's names on them. Make multiple name papers for each child.
The children place their name next to the color activity question that applies to them. For example:
Who is wearing green? Those wearing green tape one of their name papers next to the green.
Who is wearing red? Blue? etc.
When done, engage the children in reviewing the results of this chart. Count the number of names next to each color and print that number next to the color.
Ask which color has more names? Less names? Which color are MOST of the children wearing (based on the chart) etc.
Who Has THIS Letter?
Make 2 sets of 26 shamrock/clover shapes and program them with letters.
Give out a shamrock to each student. Keep track of the letters you give out. From the second set, only have those letters in front of you, face down.
Make up a rhyme such as: Letter, letter. Which shall it be? Who has the letter that's in front of me?
Flip over a letter shamrock and the children who have that letter will let you know that they have it!
You could also have multiples of many letters if you want to focus on specific letters. In this case, a few children would have the same letter.
VARIATION: This activity could be done for number recognition or color recognition as well.
Return to Top
Cooking Recipes
Snack Recipe Ideas to Cook Up for Your St Patricks Day Activities Theme!
Cooking with children helps develop their math skills and helps them to learn how to follow directions. It also allows for some great conversation! Ask many questions while cooking with your children to encourage conversation! Be sure to ask specific themed questions while making these fun snacks!
Irish Brown Bread
Ingredients:
2 1/4 cups whole wheat flour
2 3/4 cups all purpose flour
1 1/2 cups rolled oats
1 teaspoon baking soda
1 teaspoon salt
1 tablespoon sugar
2 1/2 cups buttermilk
1. Heat oven to 400 (farenheit)
2. Have all children wash their hands and discuss the importance of clean hands before cooking!
3. Combine all DRY ingredients in a bowl. Allow each child to put in something!
4. This recipe is best when mixed by hand, however, I usually have the children take turns mixing with a spoon!
5. Pour in the buttermilk.
6. Mix again with spoon. Then, the adult mixes by hand. It will be wet and sticky at this point!
7. With lightly floured hands, have children help you shape the dough into a ball.
8. Place on a floured cookie sheet.
9. With a knife, make a deep X in the top of the ball, widening the X with the knife as you cut.
10. Bake until golden brown (approximately 50 minutes).
11. Cool on a rack for about 10 minutes.
This recipe makes an loaf about 6-7 inches wide.
It might be fun to divide the bread into smaller amounts after step 6 and let each child make their own loaf! I have not done this with the children yet, so I'm not sure how long mini-loaves would need to bake.
Potato Nuggets
Peel, cut, cook and then mash about 5 potatoes (use the potatoes that you used for the Toss The Coin Gross Motor activity below).
Add about 1 cup (or more) of flour to 2 cups of mashed potatoes.
Children roll small amounts into a ball and press the middle with their thumb.
Cook in boiling water for about a minute or so. Yummy!
EXTENSION: If you have extra mashed potato mixture after making these, put it out as playdough for the children to use with cookie cutters.
Return to Top
Dramatic Play Ideas
St Patricks Day Activities Theme Ideas to Transform Your Dramatic Play Area
Leprechauns!
Provide green vests, jackets or hats for the children to be leprechans. They can hide pictures of pots of gold for their friends to find!
Return to Top
Easel Ideas
St Patricks Day Activities Theme Ideas for your Easel
Go Green!
Provide yellow, blue and white paint to your easel and see the shades of green your children can make!
Crazy Crayons
Tape a blue and yellow crayon (or marker!) together with scotch tape. As the children color with them, they'll make green!
Return to Top
Gross Motor Games
St Patricks Day Activities Theme Large Group Games that help build their muscles while they have fun together
Toss the Coins
Cover your bean bags with gold fabric. Toss them into a pot! Place a tape line on the floor for them to try tossing from a further distance.
VARIATION: Toss potatoes instead of bean bags! When done, peel and cut potatoes. Use to make Potato Playdough Nuggets! See cooking activity above for instructions.
Find the Gold
In advance, hid gold coins or tokens in your gross motor area or playground. Have a scavenger hunt to find them. To avoid some children from not finding any, set a number that each child should look for, such as 10. Once they find the number you have set, the should come back to you and practice counting them!
Return to Top
Library and Literacy
St Patricks Day Activities Theme Ideas for Your Library and Literacy Activities for your Preschool Classroom
Book Suggestions for the Library
Jamie O'Roarke and the Big Potato by Tomie de Paola
The Luckiest Leprechaun: A Tail Wagging Tail of Friendship by Justine Korman and Denise Brunkus
Hooray for St. Patrick's Day by Joan Holub
It's St. Patrick's Day by Rebecca Gomez
Shamrocks, Harps and Shillelaghs: The Story of the St. Patrick's Day Symbols by Edna Barth
Return to Top
Math And Manipulatives Activities
St Patricks Day Activities Theme ideas to help your Preschoolers develop those small muscles in their hands!
The following St Patricks Day activities focus on counting, 1-1 correspondence and sorting.
Cover The Shamrocks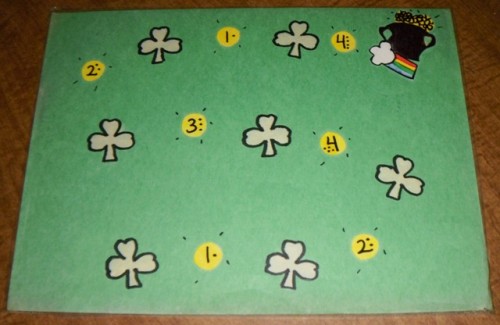 This game focuses on fine motor, counting, 1-1 correspondence and cognitive skills!
Materials needed: Home-made game board; gold tokens or coins, dot and/or numeral dice
Introduce the game board in a small group (or at large group circle time!). Show them the game board and ask them to describe what is on it.
Show them the gold pieces or tokens and the dice.
Let the children know that there are many ways to play this game and ask them to take turns telling how they would play. Write down their responses.
When you have this game out for the children to play, discuss what "rules" they will use!
You will notice that children have different ideas about how to play such as:
Children may cover the same number of shamrocks that they roll on the dice.
Children may add or remove coins based on the roll of the dice.
Children may use the coins/tokens as "counters" in a traditional board game and move their piece based on the roll of the dice.
EXTENSION: Write out each child's suggestion on "How To Play" and post them on the wall by the game or math table. Rainbow Order
Materials: In advance, cut out arches of rainbow colors. Cut so that each color fits into the next. So the red arch would be larger than the next one (which is orange).
The children place the arches in order of size. When complete, you will have a semi-circle shape. I'll try to get a picture of ours loaded here soon!
Shamrocks- St Patricks Day Activities-Shapes
In advance, cut out multiple sets of the following:
3 green hearts and a rectangle.
The children organize them to make a shamrock.
EXTENSION: Provide a heart and rectangle stencil for the children to trace and cut out their own sets!
Coin Sorting
Provide a large variety of coins (gold coins can be purchased at dollar stores). The children sort them by attributes (size, color)
EXTENSION: In advance, precut pots (for pots of gold) and program them with numbers for the children to count the number of coins onto the appropriate numbers.
VARIATION: Program the pots with letters for the children to place coins on the letters for letter recognition.
Return to Top
Music and Movement
St Patricks Day Activities Theme Music and Movement Ideas to get your Preschoolers Movin' and Groovin'!
Celtic Music
Play different types of Irish music (jigs, ballads, etc.) for the children to dance to. Suggest they dance to the tempo/speed of the song they hear. Add a "freeze dance" component by tell the children they need to freeze when the music stops.
Songs and Fingerplays
Rainbow
sung to the tune of Twinke, Twinkle Little Star
See the rainbow way up high,
Spreading colors in the sky.
Red and orange, yellow too
Green and purple hug some blue.
Watch it quickly, it won't last.
Rainbows can disappear fast!
The Leprechaun
I saw a leprechaun! (Put hand over eyes and look)
He hid behind a tree! (Point across the room)
I'll follow behind him (Tip Toe with finger over lips)
Do you think he'll see me (whisper this line and point to self)
He's running through the forest (run in place)
I see rainbows on the way (hold arms up in a rainbow arch shape)
I hope he finds a pot of gold (pretend to hold a heavy pot)
To share on St Patricks Day! (point to self)
Return to Top
Sand and Water Table
St Patricks Day Activities for the Senses!
Potato Hunt
Materials Needed: Small round potatoes and a few large ones
Bury the potatoes in your sand table for the children to find! Great follow up to the story Jamie O'Rourke and the Big Potato by Tomie de Paola.
EXTENSION: One teacher added a small brown lunch bag and a large brown grocery bag to the area and had the children sort the potatoes after they found them by size!
Gold Digging
Add gold coins (or jewels) to your your and table!
VARIATION: If you have the glass multi-colored jewels, they are great fun to fish for in a water table!
Return to Top
Science Activities
St Patricks Day Activities Theme Ideas--for your Preschool Scientists in Training!
Observing Bubbles
Materials needed: Bubble solution and bubble wands
At group time, talk about bubbles as you blow some. This will be a very excited discusssion! Ask the children to watch a bubble and discuss what they see.
Can they see the rainbow colors in the bubbles? Try flashing a flashlight on a bubble, observe in a dark area. Is it easier or more difficult to see? If possible, blow bubbles outside and ask children to observe and look for rainbows inside the bubbles. The rainbows are much easier to see when there is more light shining through them.
EXTENSION: Make your own bubbles!
Add 2/3 cup of Dawn or Joy dish detergent to 1 gallon of water and 1 tablespoon of glycerin. I've been told if you make this solution and let it sit for several days before using, it works much better. I'm not sure why!
Grass Growing Shamrocks
Materials Needed: Green bell peppers (1 for every 2 children), grass seed, water, shallow trays, knive, soil, plastic spoons
Cut the peppers in half cutting across the short width side (not length-wise). It is a shamrock shape!. Give one half to each child and let them remove seeds.
They should scoop in soil (potting soil works well) into the peppers and then sprinkle grass seed on top.
Water until slightly damp.
Leave in science center with their names on the peppers so they can water them and watch them grow.
These can be planted outside as is!
EXTENSION: Save the pepper seeds and plant them as well! It takes about 2 weeks to germinate (we did this in a room that had no direct sunlight and it worked well!). Once they sprout, start an outdoor garden or send them home for them to plant at home!
Return to Top
Writing Activities
Writing Activity Ideas for Your Preschool Classroom's St Patricks Day Activities Theme!
Rainbow Bag Printing
Materials needed: ziplock baggies, clear packing tape, yellow and blue paint
In advance, place some blue and yellow paint into baggies. Seal and tape shut.
In the writing center, the children can practice tracing a letter onto the bag. As they do, they'll make green!
Many of the children will just want to squish the bag up to see the color change. LET THEM! This is a great conversation about colors! They can take what they learned about mixed blue and yellow to the art table, the easel, etc. You could also suggest that they try writing with a yellow crayon and then trace over it with blue to see what happens!
Once they are done squishing, they can try making letters! They are fun bags to make. I'd suggest making one bag for each student and printing their name on the bag with permanent marker.
The Story of The Leprechaun
Glue a shamrock shape on white papers in advance. As children come to the writing interest center, ask them to draw on the paper. As they are drawing, ask them to tell you a story about their shamrock. Write down their stories and display them with their pictures when they are done.
Return to Top
Miscellaneous Activities
Dancing Performance
Call a local dance studio and ask if a few of the dancers will come and demonstrate a simple dance for your preschoolers.
St Patricks Day activities can revolve around this fun celtic music--and having someone perform a jig for your kids is so much fun!
Return to Top
Leave the St Patricks Day Activities Theme Page to the MAIN THEMES Page

Return to Preschool Plan-It Home Page from this St Patricks Day Activities page
---