God Made Me Preschool Theme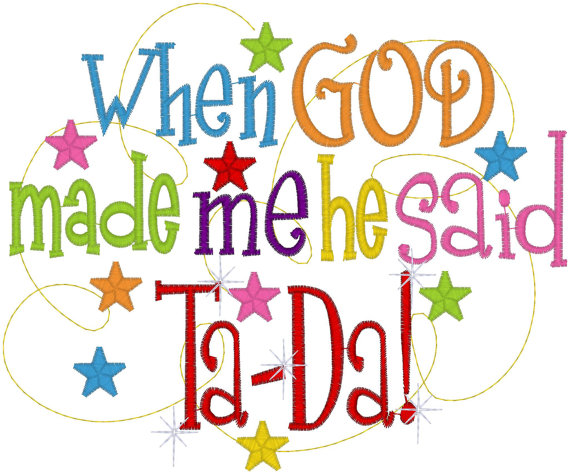 ---
---
This God Made Me theme is based on God's creation of us!  There are many Scripture verses/sections that could be used, the most obvious Genesis 1, Day 6.  This  page includes preschool lesson plans, activities and Interest Learning Center ideas for your Preschool Classroom!
This would go well combined with an
All About Me Theme
To read my Statement of Faith, click here.

Let the Theme planning begin!
You can either scroll down through this page to see all of the preschool activities for your theme or click the link below to go to specific preschool activity types you are looking for.
GODMADEME
Art Activities
Block Area
Circle Time Activities
Cooking Recipes
Dramatic Play Ideas
Easel Ideas
Gross Motor Games
Library and Literacy
Math And Manipulatives Activities
Music and Movement
Sand and Water Table
Science Activities
Writing Activities
---
Art Activities
God Made Me Theme Art
It's Me!
Materials needed:  paper plates or circle shapes, crayons, hand-held mirrors
Each child looks in a mirror and draws their face.
Use these as an activity about comparing:  colors of eyes, skin, hair....we are all different by the same:  Made and loved by God.
What We Need Collage
Materials Needed: magazines, scissors, glue, paper
Talk with the children about what we need to live:  food, water, love, clothes
They make a collage of things we need (they could make their own or make a group collage).
Discuss that God gives us what we need, though sometimes not what we WANT!  Who helps them get the things they need? (parents, grandparents, neighbors, church family, friends, teachers, etc.)
Clay People
Provide a variety of colors of modeling clay.
Let the children make people or other "creation" things!!
---
Return to Top
---
Block Area
God Made Me Theme Block Center Ideas
Add people and animals.  Let the children recreate the Creation story or just enjoy playing with items that represent God's wonderful creation.
---
Return to Top
---
Circle Time Activities
God Made Me Theme Circle Time Ideas
Circle Time is such a great time for children to learn the social skills of being together as a large group AND to learn more about your theme!
Puppet Show!
Needed:  A puppet to give a summary of the story of creation; items for each day of creation--I made these items with paper and attached them to a large craft stick: light paper (for day); dark paper (for night); sky; land; trees, flowers, grass; sun; moon; fish; birds; animals (choose a few!); people
Have your person puppet tell the story of creation from the Bible.  Hand out the stick papers, one to each child.  Have them hold it up when you read about their stick item.
After you are done, have the puppet ask, "So, who made you?"
Have the puppet say, "That's right!  God created everything....including us!  We were made in His image!  God loves His creation.  He loves us.
Baby Pictures!
In advance, ask parents to send in a picture of their child as a baby with their name printed on the back.
Attach the pictures to a board.
Bring this board to circle time.
Tell the children: Look how cute you all were!  Can you guess who this baby is?  Or this one?  (point at baby pictures of you and a staff member!).  That is me and that is ________(staff member's name)!
God made all of us.  He loves us so much.  We are all made uniquely--that means each one of us are different--but we are all loved and cared for by God.  As a matter of fact, the Bible tells us this.  In Proverbs 139:14 (open your Bible in front of the children to this verse), David wrote:
"I am fearfully and wonderfully made".  Fearfully does not mean being afraid here...it means with heart felt interest!  And wonderfully means with uniqueness.  Let's thank God for His love and care!
VARIATION:  Rather than stick items, give each child a stuffed animal!
What's In A Name?
This will take some advance research, but it is so much fun for the kids! I've also done this with our elementary aged program children!
In advance, look up the meanings of the names of all of your children and your staff and write them down.
Bring name tags or pieces of paper to circle and markers.
Have your children print their names on the name tags or paper as best they can (great practice here.....even if they can only print the first letter of their name or just make a scribble...awesome!  Let them do that!)
Talk to the children about how we are all different and all loved by God.
God gave us family to care for us as we grow.  Our families gave us our names!
Tell them that names are special and that you looked up the meaning of each of their names.
One by one, do the following with each child:  (we'll use my name as an example):
Please tell us your name!  
Cheryl.
Let's clap Cheryl's name:  Che-ryl (2 claps).  Che-ryl (2 claps).
Cheryl, your name means beloved, darling or darling gem!
Continue with each child.  Send home a note that has the meaning of their names on it!
EXTENSION:  Encourage them to ask their families how they got their name when they get home!  Tell the story of how you got your name!
I'll share mine with you!  I was named after a tug-boat!  That's right!  A tug boat!  Before I was born, my Mom and Dad were watching a weekly TV series called "The Waterfront" (no, not On The Waterfront with Marlon Brando, but the series that lasted one season that was a takeoff from that movie!).
In the opening scene each week, they showed a riverfront with lots of boats, and on little tugboat went across the television screen.  
Did you know that all boats are named by their owners?  Well, this little tugboat had a name:  Yup!  Cheryl.  It was called The Cheryl Ann
My Mom and Dad loved this name and decided that would be my name if I was a girl.......and here I am!
Head, Shoulders, Knees and Toes
This is a great activity to go along with this theme!
Jesus Loves Me song
This song has great sign language movements which you can look up online.  
---
Return to Top
---
Cooking Recipes
Snack Recipe Ideas to Cook Up for Your Theme!
Cooking with children helps develop their math skills and helps them to learn how to follow directions. It also allows for some great conversation! Ask many questions while cooking with your children to encourage conversation! Be sure to ask specific themed questions while making these fun snacks!
People Cookies
Purchase (or make your own) cookie dough.  Provide people shaped cookie cutters and rolling pins.
---
Return to Top
---
Dramatic Play Ideas
God Made Me Theme Ideas to Transform Your Dramatic Play Area
Home Center
I would leave your Dramatic Play area set up as a home center.  This is a great way for children to learn about each other's family, what they like to do at home, etc.
---
Return to Top
---
Easel Ideas
God Made Me Theme Ideas for your Easel--
More Than Just Painting (Although that is always THE favorite in our classroom!)
I'm special......
Encourage the children to paint a self-portrait!
---
Return to Top
---
Gross Motor Games
God Made Me Theme Large Group Games 
that help build their muscles while they have fun together
I Spy--Stand Up/Sit Down
Play I Spy using information about the children.  Use items that apply to all of them and items that apply uniquely to each child.
I Spy someone with sneakers on.
I Spy someone with white on their shirt.
I Spy someone who has a brother named Michael.
Obstacle Course
Set up an outdoor or indoor obstacle course.  After the children have used it for a while, talk about what they liked best; least; what was easiest in it; what was hardest.
God has given us all gifts, we are unique.  Some things might be easier for us than for others and some things might be more difficult.  We can help each other.
---
Return to Top
---
Library and Literacy
God Made Me Theme Ideas for Your Library Area
Flannel Story
Add the items needed from the Creation Story (Genesis 1) for th children to use in the library area this week.
Book Suggestions for the Library
God Made Me by Tyndale Kids
God Made You Special by Veggie Tales
God Made You Nose To Toes by Leslie Parrott and Valeria Petrone
God Made Wonderful Me! by Genny Monchamp and Karol Kaminski
---
Return to Top
---
---
Math And Manipulatives Activities
God Made Me Theme Activities to help your Preschoolers develop those math skills and the small muscles in their hands!
People Matching
Make pairs of people that match.  Make pairs that have different attributes such as:
2 each of brown eyes, blue eyed, and green eyed children.
Do the same with different colored hair, skin, clothing patterns that differ; clothing with numbers or letters on them to match.
---
Return to Top
---
Music and Movement
God Made Me Theme Music and Movement Activities and Ideas to get your Preschoolers Movin' and Groovin'!
God Made Me
sung to The Farmer in the Dell
God made the birds.  God made the bees.
God made the flowers and He made Me.
God made the sky.  God made the sea.
God made the animals, and He made me!
God Loves Everyone!
Sung to Mary Had a Little Lamb
The world is full of God's creatures, God's creatures, God's creatures.
The world is full of God's creatures and He loves every one!
Hokey Pokey
God made us!  Let's use what we have to do a dance!
Do the Hokey Pokey with the kids.  Add lines to include other body parts such as "We blink our eyes in, we blink our eyes out..."
---
Return to Top
---
Sand and Water Table
God Made Me Theme Activities for the Senses!
Sensory Creation
Materials needed:  plastic eggs, items to fit in each egg that go with God's creation:  little person, a leaf, a plastic animal,  a sun, etc.  Leave one egg empty.
Enourage the children to use their senses to guess which of God's creations are in each egg--shake it, smell it, etc.
The empty egg is to remind them that before God created, there was nothing.
---
Return to Top
---
Science Activities
God Made Me Theme Science Activities--for your Preschool Scientists in Training!
We were Created with a Plan!
In advance premeasure the ingredients to make your favorite playdough and put the ingredients aside.
Give each child a small amount of flour and three times as much water. Instruct them "To make playdough".
They will dump the ingredients together...ask what is wrong?  Is it like playdough?  Discuss that although what they just made is very cool and fun to touch, it is not what we had set out to do...make a dough.
Discuss that some things are made with a certain plan, as were we.
Now have them help you make the planned out playdough!
Fingerprints
Provide paper and washable ink pads.
Have each child make a fingerprint on a card with their name.  When dry they can compare the differences using magnifying glasses.
This is a fun activity for the kids.  Once they've made their own fingerprint card, provide extra paper and let them print away!
---
Return to Top
---
Writing Activities
Writing Activity Ideas for Your God Made Me Theme!
What is Special About Me?
Encourage the children to print their name on a paper and draw a picture of what they like best about how God made them.
---
Return to Top
---
Go to the All About Me Theme Page for more Activities
---
Go to MAIN BIBLES THEMES page from this God Made Me Page
---
Go to MAIN THEMES page
---
Go to Preschool Plan-It's Home Page
---