Classroom Pets in Preschool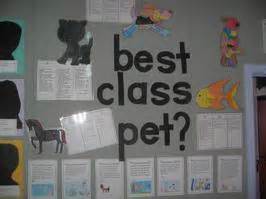 Classroom Pets in preschool are an incredible way for children to grow in learn in all areas of development! Find out how and look at the variety of choices you have!
Pets encourage self-esteem, responsibility and nurturing by handling, caring for and, in some cases, playing with the pet.
Observing and caring for a pet help your preschoolers develop skills in science, math, language, fine and gross motor skills and more!  Here's how!
Science:  Children develop science skills by learning about the pet's habitat, behavior, eating & sleeping habits and more.
Math:  Children develop math skills by measuring food, water and even the pet!  
Language:  Children develop language skills by learning new words associated with the pet (words like mammal, reptile, etc.).
Fine & Gross Motor:  Children develop fine and gross motor skills while feeding the pet, cleaning their cage or habitat, handling and playing with the pet!
Is a Classroom Pet for You?
We know having a pet is a big responsibility.  There are areas to consider before bringing a pet into the classroom.
1.  First and foremost, do any of your children have any allergies to animals (cats, dogs, bird dander, etc.)
2.  Check your state licensing regulations.  Some states/provinces do NOT allow certain pets/animals to be in programs (some might be birds or turtles).
3.  Who will take care of the pet on weekends, weeks the classroom is closed or when you are on vacation?
4.  Are your co-workers on board with having a pet (this is a team decision!)?
5.  Does your school or program allow pets?
6.  Do you have the funds for veteranary care if the pet gets sick?
7.  Do you have the funds needed to care for the pet (food, bedding, etc.)?
---
---
Permanent, Temporary or Visiting Pet?
Your answers to the above questions will determine what type of pet, if any, you will have!
There are three different ways to have a pet in your classroom.
A permanent pet would be one that resides in your classroom (except, perhaps, on weekends and vacation weeks).
A temporary pet would be one that begins in your classroom and eventually will be set free or re-homed (such as butterflies, tadpoles or ducks).
A visiting pet would be one that belongs to someone else.  They would bring it to your classroom or program for the children to see and visit with.
Let's look at all three ways to have a pet in more detail!
Children LOVE talking about their pets!  Check out my FREE Pets Theme Page for activities to run a Pets Theme for a week in your preschool classroom!
Permanent Classroom Pets
There are so many that you can choose from!
You should do research on the type of pet that you are considering so that you are fully aware of the care, food and habitat it will need as well as it's long-term needs.  Also, check on their life span--did you know that turtles can live anywhere from 10 to 100 years?!  
Remember that once you bring a pet into the classroom, that pet may need to go with you should you move on to another program!  Are you ready for this pet to become your personal pet?
There are so many pets to choose from!
Over time, I will be adding a page with details about the following pets, but here are some to consider that other teachers have had for pets in their preschool classroom:
Check Out These Pages!
Future Articles to Come:

Ants

Birds

Crickets

Fish

Gerbils

Guinea Pigs

Hamsters

Future Articles to Come:


Hissing Cockroaches


Lizards (Bearded Dragons, Geckos)

Rabbit 

Reptiles (Bull Snakes, etc.)

Snails

Tadpoles, Frogs

Tarantulas
---
There is a non-profit organization called Pets In The Classroom. They have grant monies available to qualified programs. You can check them out by BY CLICKING HERE to go to the Pets in the Classroom website
---
Temporary Classroom Pets
Many of you already participate in some of these.  Keep in mind that you need to have an end plan.  Where will, for example, the ducks go once they are hatched and old enough?
Again, over time, I will add detailed information about each one! Here's a starting list:
| | | |
| --- | --- | --- |
| Butterflies/Caterpillars | Ducks | Lady Bugs |
Visiting Pets
Visiting pets in your classroom are like onsite field trips!  Do some research, ask around (ask parents, librarians, etc.) for ideas!  
Do you know someone who has a horse-ranch?  Or a camel? Or a dog, or cat or any of the above animals mentioned in the above areas?  They would be a great visitor to your classroom so long as none of your preschoolers have allergies to them!
Over the next few months, I will get into more detail on each one, but here is the starter list:
Camel

Cat




Dog

Horse

Iguana

Parrot

Turtle



---
Unfortunately, we will most likely deal with the death of a classroom pet at some time. 
Losing a pet is difficult and very emotional for children and adults alike. There is a grieving process that happens.
With this in mind, I want to direct you to a page here on my website that will help with the Loss of a Pet. The page has an article and a book list for you to review or pass on to parents when this time comes. I hope you find it helpful.
---
Do you have other ideas for classroom pets?  Contact Me by CLICKING HERE to let me know!

---
Return to Preschool Plan It HOME Page
---