Tips on Becoming a Preschool Teacher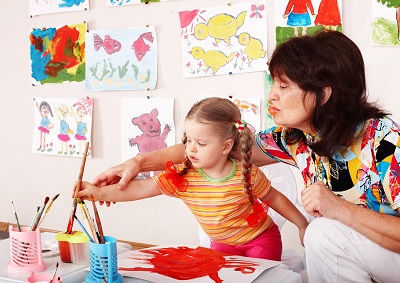 "A preschool teacher affects eternity; she can never tell where her influence stops."
~Henry Brooks Adams
Mr. Adams hit the mark, don't you think?
What a tremendous opportunity we have just by promising to educate the children of our future.
You do not need to be a certified teacher with 20 children in her class to affect eternity either.
Perhaps your influence each year will be a group of 6 children or a group of 20.  
Regardless of the number of children, preschoolers you help will impact the next generation and they will impact the next generation and so on!
The decision to teach preschool should not be made lightly. We have a great responsibility to give these children the best possible start to their school journey!
There are three decisions you'll need to make before becoming a preschool teacher:
Decide on the type of position you want to hold and the type of program you want to work in.
Determine the type of training you will need.
Create or update your resume.
Find and apply for positions!
Let's look at these areas!
Types of Preschool Teacher Jobs and Programs
If you want to work with young children, you have many career options available to you.
It really comes down to looking at what type of environment you want to work in, what kind of career advancement opportunities you'd like to have, and what your salary expectations are. 
Assistant Preschool Teacher: Child Care Center or School
Being an assistant to the preschool teacher at a daycare or school is often the first step that many take in their career in early childhood. Assistant teachers (also known as co-teachers) serve in a position for which a certified teacher has the ultimate responsibility for the teaching that occurs in the classroom.

Lead Preschool Teacher: Child Care Center or School
A lead preschool teacher's responsibility is to teach children up to 5 years of age by creating preschool themes and activities designed to promote all areas of early childhood development (social, physical, emotional, and intellectual development) needed .

Child Care Center Director
Center directors are responsible for planning, directing, and/or coordinating the academic and nonacademic activities of preschool and child care centers or programs. They usually have a lot of child care experience, certification, and/or a degree in early childhood.

For more information on what is included in each job description,
Click Here to go to the Job Descriptions page!

Preschool Teacher
A school-based preschool teacher varies from a daycare teacher only in the setting in which they teach. They teach preschool-aged students in public or private schools basic academic, social, and other formative skills.

Other Organizations
Many other public and private organizations employ early childhood educators. Examples of these organizations are: Child & Family Services, Religious Organizations, Head Start programs, and Civic & Social Services. 

Child Care Provider: Home or Family Based Care
Home-based child care providers attend to children in private households. They perform a variety of tasks, such as dressing, feeding, bathing, and overseeing play of young children and have the opportunity to provide this with a home-feel!

Homeschool Teacher
Parents who wish to formally educate their children at home are another type of early childhood educator.
They may have a variety of reasons why they decide to educate at home, but homeschooling parents will teach the same skills as the teachers in school settings.
The requirements are to homeschool your own children are not typically as stringent as other careers.

Early Childhood Education and Training
There are several paths that you can take to become an early childhood teacher. If you are interested in teaching preschool in home, you will need to check with your local licensing agency, do your research, gather your materials, and begin.

The next path would be if you want to be a teacher at a child care center. Often, these facilities will hire lead teachers with very specific skills and/or experience.  You will need to be familiar with your state or country's licensing requirements.
One way to gain that training is through a Child Development Associate (CDA) credential.
If you are looking into center-based employment, you will need to check with a few local centers to double-check their hiring requirements. 
Before applying, you will want to have an updated resume.  You can learn more about creating your teaching resume here. 
And then there is the path to an undergraduate degree in early childhood or elementary education.  With a 4 year degree, once you have graduated, you can apply for your state's teaching certificate.
You can also earn your degree online  Many reputable universities have early childhood college programs that can fit your needs. Visit this Online Education Program Directory to find a school that will work for you.

This path would provide you with the most flexibility as far as employment opportunities, but college is certainly not for everyone. In the end, you have to weigh the pros and cons of each path and decide on the best one for you.
Finding a Job as a Preschool Teacher
Once you have decided which early childhood educator career is right for you, and you have completed the necessary requirements, you will need to create a preschool teacher resume and apply to open positions. 

There are many places that you can begin your search.  Click here for some ideas on how to search for preschool teaching jobs.  Soon enough you will be getting your first teaching job!
---
Go to Preschool Plan It's HOME Page
---
---