Preschool Library Interest Center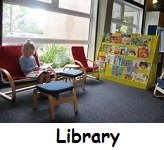 What is a Preschool Library Interest Center
Of course this area has books, however most preschoolers can not read the words!
A library area can help preschoolers' language and literacy skills in many ways!
Where should you place the Library Interest Center?
It should not be surrounded by noisier areas such as dramatic play or the block center. For suggestions on how to set up your interest learning centers, click the Classroom Design link below.
CLICK HERE TO GO TO THE CLASSROOM DESIGN PAGE
What do children learn at the Preschoool Library Interest Center
Activities in the library help children:
Letter and word recognition, pattern recognition, using their memory to recall familiar stories, learn proper handling of books.
How should the teacher prepare the Library Interest Center?
Teachers can offer many items based on themes using items such as themed books, puppets or flannel board stories.
Materials for the Library
The materials to have on-hand are anything that will encourage language and literacy. Here are some ideas:
Themed books—fiction and non fiction books that correspond with your current classroom theme.
Basic Concept books about the alphabet, numbers and colors.
Nursery rhyme and other favorite books.
A flannel board with one or two choices of flannel board stories (change these flannel stories every 2 weeks. And they do not need to be based on a theme.
Listening Center—add a CD player with books on CD and headphones for the children to listen to stories.
Puppets to act out stories.
Bean bag chairs, pillows, carpet squares or comfy, foam furniture to sit on.
A magnet board with magnetic letters or numbers.
Paper and pencils or crayons for children to create their own books.
You could also include a writing table here, but it will need supervision until the children can use writing materials without writing in books. Rules about how to treat our books should be a regular conversation with the children!
Recommendation
One resource I simply could not do with out is The Creative Curriculum by Diane Trister Dodge. I believe every classroom should have one! If your program does not have a copy, check your local library or bookstore. It is a wealth of information on interest centers and could not be more developmentally appropriate!
You can purchase a copy through Amazon. Click link below to go to their website.
---
Click Here to Go to THEMED PAGES for Library book suggestions for your Preschool Library for each theme!
---
Click Here to Go to the Main INTEREST CENTER Page from this preschool library page
---
Click Here to Go to Preschool Plan-It's Home Page
---