Preschool Family Life Events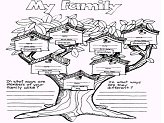 In a preschooler's family life---life happens!
We know as teachers that hat happens at home does not stay at home. Life affects them all day!

This is true for adults and for preschoolers. What happens at home stays with us throughout the day.
As adults, we can usually "check it at the door" when we leave home, even if only for a while. Life experience has helped us to learn how to do that.
Our preschoolers are just starting life, gaining life experiences and need help to learn how to adapt to life changes. And wow, there are so many changes and events that our preschoolers face.
Here's a short list:
Each of these have an affect on preschoolers. Some can cause excitement to a point where they can't focus! Some can cause confusion or sadness.
It is important as caregivers and teachers, that we develop a relationship with our preschoolers' families.
With a trusting relationship formed, parents and teachers can work together as a team in the best interest of our preschoolers!
This section is dedicated to addressing life issues and events, the affects they have on our preschoolers and how we can support them and their families.

Family Life Events
Click on the article below to find out how you, as an early childhood educator, can support families.
---
Go to Preschool Plan It's Home Page
---