Lets Potty Board Game


Lets Potty
The Potty Training Board Game that Brings the Party to the Potty!
by Aim High Games
UPC 798304241877
Receipient of Mom's Choice Awards
Many children in our programs are not potty trained.  The Let's Potty game can help parents and providers work together on this in order for it to be successful.
In full time care, we can have a child potty trained (provided they are ready to begin!) within a week.  However, if it is not supported at home, they come back in diapers on Monday.
The reverse is also true.  If a family is working on potty training at home and it is not supported in preschool, toilet training will not be successful.
The Let's Potty game is a wonderful board game that can help teachers and parents work together during this time of readiness for the child!  
Board games can be difficult for young children to play due to their lower attention span and lack of being able to read.
However, this board game is very interactive and does not require reading.  I LOVE this game!  
Let's look at it together!
GAME BOARD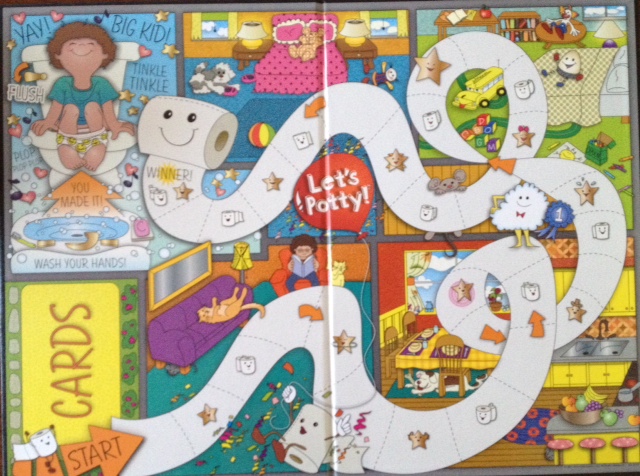 The game board is colorful and fun and it is very sturdy!  There is so much to look at and talk about with the children while looking at the game board!  It could be distracting to a child if you just begin playing the game without checking out the game board together first!
I am a big believer that children need time to explore new materials and games.  This game is no exception!  The board itself is a great conversation starter about potty training.  I would recommend taking time to discuss the pictures on it before playing for the first time.  
"Look!  There is the kitchen!  What is in the kitchen?"
"Hmmm.... I wonder where the potty is?"
"Where is the bathroom?"
"What is in the bathroom?" Etc.
It would be great for families and caregivers to use the game board in this way as a first introduction.  Once children are familiar with the board and cards, it can then be used more formally as a game!
GAME CARDS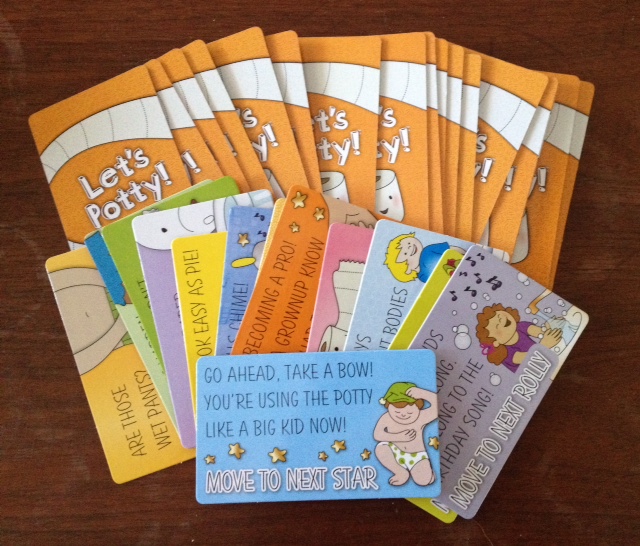 The game cards are laminated and durable.  They are large and thick, making it easy for preschool hands to pick up easily, manipulate but not bend!.  The cards have instructions on them that you read to the child.  
They are fun instructions and I love that most of the instructions rhyme! See the example in the picture:
Go ahead, take a bow!
You're using the potty like a big kid now!
If you read the instructions as a poem, the children will enjoy it so much!
Preschool teachers and parents should capitalize on the rhyming! clapping while reading or reading the cards as rhymes will help retain children's attention.
GAME PIECES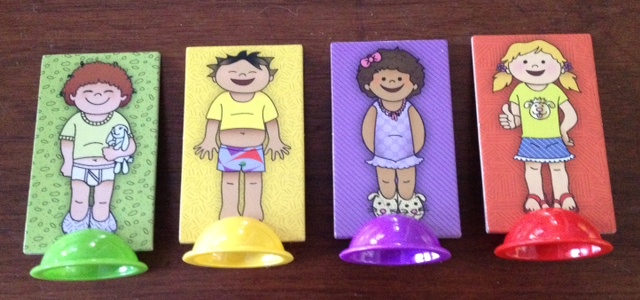 The bases for the game pieces are large, great for this age to hold but also the large base size is great for choke-able safety. 
Allow children to practice moving the pieces from space to space (free exploration time) before playing formally.  Place the game out in your math and manipulatives center for free play time!
Have the game out for the children to use and explore and then set up some times during your week to play the game with children in small groups.
How Preschool Teachers Can Use This Game
IN THE CLASSROOM
I've discussed many ways to have the game set up in your classroom for use in small groups and for free play time.
This helps support families who are working on potty training at home with their children.
WITH FAMILIES
This would make a great TAKE HOME pack!  Put together a "Potty Training" themed Activities in a Bag back pack for parents to borrow for 2 weeks!
Activities in a Bag are typically backpacks that have activities, games, books and other materials based on a theme.  I think a Potty Theme would be a great one and this game would be perfect for it.
Activities in a Bag:  Potty Theme
Here is what I'd recommend in an Potty Theme Activity Take Home Pack:
Summary
This game was made with preschoolers abilities in mind!  I highly recommend this game and actually would suggest that your classroom have TWO of them:
One game to stay in your classroom for the children to use during free play and
One game to lend to parents (or have in a take home activity bag as suggested above.).
In this way, the children who are potty training would be supported by using the game at home and in preschool!
---
Disclaimer: I was offered a copy of this game to use and review by Aim High Games in exchange for my honest review.  I was not required to have a positive review and no money exchanged hands. 
---
---

Would you like me to review YOUR company's product?  


Contact me BY CLICKING HERE.  Include the following information:
1. Company Name and Contact person name
2. Email address and telephone number contact
3. Website URL
4. Product(s) you are interested in having me review.
---
---
Return to main Product Review Page from this Let's Potty Game Review
---
Return to Preschool Plan It HOME PAGE from this Product Review Page