Movement Fun Dance & Development for Children CD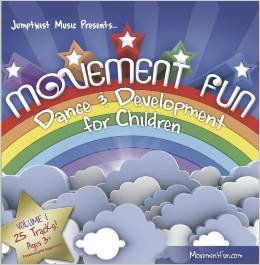 Movement Fun Dance & Development for Children CD

by Jumptwist Music



ASIN B00C2U9WQY
Movement Fun is a CD that includes music and movement activities should be included in all of our programs every day!  You don't need a specified music/movement time, though that would be a great addition to your daily schedule.
Music and movement can be incorporated into your Circle Time when you need the children to move and "get the wiggles" out, as a transitional activity such as while children take turns washing their hands for snack or lunch, or any 10 minute time you can designate!

FOR THE CHILDREN
Children learn so much through music and movement activities. Some things they learn are:
Patterns through rhythm

Language through repetive words and actions

Listening skills while listening and following directions

Spatial awareness skills (up, down, over, around, etc.)

Body awareness

Gross motor development

FUN!
The
Movement Fun: Dance & Development for Children
is a wonderful CD that supports the above skills and MORE!
This Movement Fun CD has 13 Music and Movement activities.  No items are needed to participate in these songs, with the exception of the tracks 11 & 12.  These two are Parachute songs.  
However, if you do not have a Parachute, you can use a small blanket or towel.  These tracks are also great for children to do using their own version of a parachute.  For example, we gave our children a dancing scarf and used them while playing these 2 tracks.
I really enjoyed the diversity of musical styles.  The activities are extremely developmentally appropriate for preschool!
The description used by the Jumptwist Music company very accurately describes the activities and potential for your preschoolers.
"Activities involving both music and movement can be helpful for children to develop physically, cognitively, and emotionally. This album combines various musical styles with developmentally appropriate activities such as loco-motor activities, crossing the midline, body part identification, and self-expression to name a few. Rock out to these songs in a gym, a classroom, or at home!"

FOR THE TEACHERS
For more freestyle fun, tracks 14-25 are the instrumental versions of each song!  Our children LOVED this!
This CD comes with an instructional booklet.  The booklet contains the words to all of the songs as well as instructional information for us teachers!
Here is an example: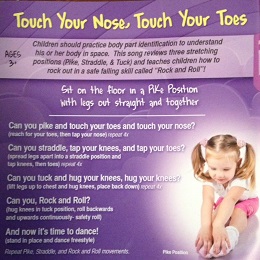 Note that there are instructions on how to introduce the song to the children in the section directly under the name of the song.  This tells us what to instruct and expect!
Under each line of the song are instructions for that particular verse!
Example:  The first verse is
"Can you pike and touch your toes and touch your nose?
Under that verse, in parenthesis, it states
"reach for your toes, then tap your nose".

Summary
This CD was put together with preschool growth and developmental abilities in mind.  I highly recommend this CD.  
No only do preschoolers love it, but so do older children.
I work a couple of nights a week providing childcare at the local gym.  We typically have children from 3 years old through 8 year olds in our group. The 8 year olds enjoy this as much as the preschoolers!
At the time of writing this review, BABY SNAKES (Track 13) is our hands-down (or belly down!) favorite!!!
---
Disclaimer: I was offered a copy of this game to use and review by Jumptwist Music in exchange for my honest review.  I was not required to have a positive review and no money exchanged hands. 
---
You might find this CD at your local library or you can purchase it at Amazon:
---

Would you like me to review YOUR company's product? 
Contact me BY CLICKING HERE
Include the following information:
1. Company Name and Contact person name
2. Email address and telephone number contact
3. Website URL
4. Product(s) you are interested in having me review.
---
---
Return to MAIN Product Review Page
---
Return to Preschool Plan It HOME PAGE
---