Clothes Theme for Preschool
A Preschool Clothes Theme is a fun theme that draws your children into learning.
Why?
It focuses on what they do everyday:  Get dressed!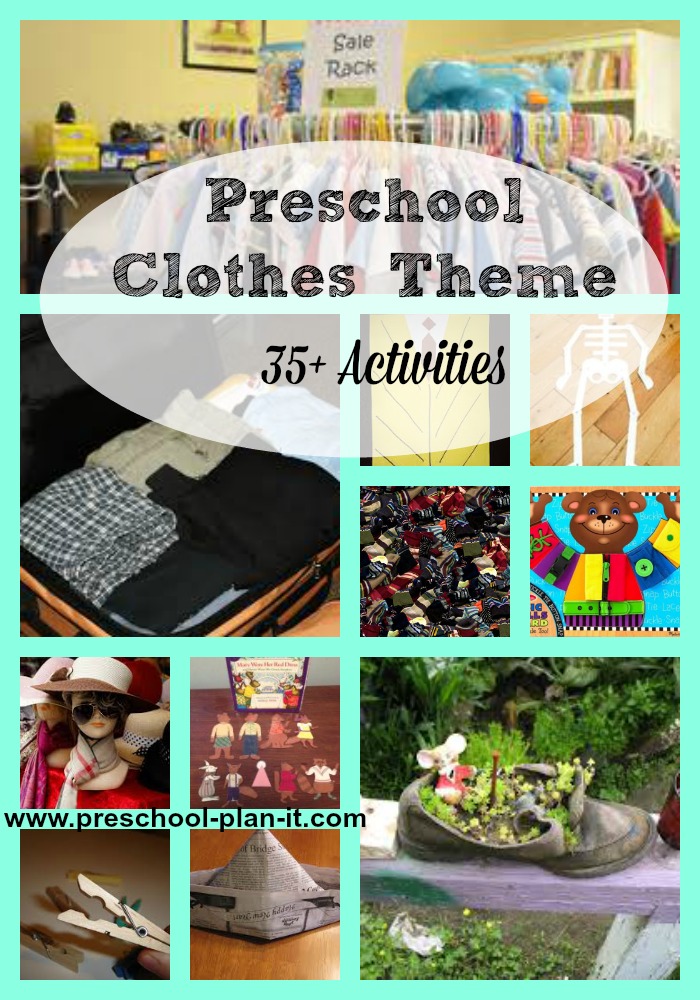 In addition to preschoolers relating to this topic, this theme will help develop many preschool skills such as:
Color recognition
Sets and Classifying (math process skill)
Counting
Self-help skills (by picking out their own clothing! )
And more!
This  page includes preschool lesson plans, activities and Interest Learning Center ideas for your Preschool Classroom!

Let the Theme planning begin!
You can either scroll down through this page to see all of the preschool activities for your theme or click the link below to go to specific preschool activity types you are looking for.
Clothes Theme Art
Carton Shoes

Materials needed:  1/2 gallon cardboard milk or juice cartons, glue, scissors, miscellaneous arts and crafts supplies.
You could have each child make a pair (if you can collect this many) or have each child make one shoe and when they are dry, place them in your dramatic play center for them to wear!
Cut open a hold in the long side of the carton large enough for a child to fit their foot in.
The children glue on miscellaneous arts and crafts items (buttons, string, fabric, etc.)
Clothing Collage
The children cut out any articles of clothing they find in magazines and glue onto a large poster board.
Hang this for them to see throughout the week.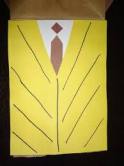 Paper Bag Clothing

Help children decorate paper bags to make shirts, skirts and jackets!  (Cut armholes out in advance).
Have children decorate by coloring with markers.


It's Me!
Trace each child on large butcher paper.
Have them add their facial feathers, hair, etc.
And, give them markers, crayons or paint to paint their clothing on!
Clothes Theme Block Center Ideas

Cover blocks in different textures of fabric.  
Add wooden thread spools for building as well!
Clothes Theme Circle Time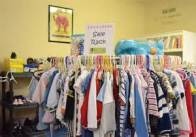 Circle Time is such a great time for children to learn the social skills of being together as a large group AND to learn more about your theme!
This Is The Way song
Sung to Early in the Morning
Act out each item of clothing you sing about!
This is the way we get dressed in the morning, dressed in the morning, dressed in the morning. 
This is the way we dressed in the morning, so early in the morning!
This is the way we put on our shirt, put on our shirt, put on our shirt. 
This is the way we put on our shirt, so early in the morning!
Other ideas:  put on our socks, put on our shoes, put on our coat.
What Am I Wearing?

Stand up in front of children.  Have them describe what you are wearing.
Then, wrap yourself in a blanket and have them recall what you are wearing!
Let each child take a turn doing this as well!
Who Am I Thinking Of?
This is a version of I-Spy.  You will by "spying" children in circle (this is a great name recognition game as well!).
I spy with my little eye, someone who is wearing brown sneakers and a red shirt.
Clothes Theme Cooking Ideas

Cooking with children helps develop their math skills and helps them to learn how to follow directions. It also allows for some great conversation! Ask many questions while cooking with your children to encourage conversation! Be sure to ask specific themed questions while making these fun snacks!
Clothing Cookies
Have the children roll out some sugar cookie dough.
Using plastic knives or cookie cutters, they cut out shapes (clothing shapes).
Bake.  Provide frosting and fruit to decorate with when cooled.
Clothes Theme Ideas to Transform Your Dramatic Play Area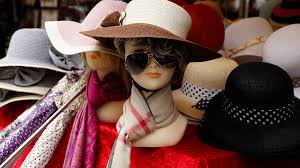 Hat Shop
Make hats with the children for them to decorate in their hat shop!
You will need:  LOTS of newspaper, masking tape, glue and miscellaneous arts and crafts supplies to decorate with!
Place double paged (you know, when 2 pages of the newspaper are still connected) on a childs head going from left to right.
Now place a second double paged newspaper on their head going front to back.

Have someone hold the paper firmly on their head.
Using the roll of masking tape, tape around their head (over the paper) two times.
Now, roll the edges up to the tape line and secure (by stapling).
Now the children decorate and "sell" in their hat shop this week.
Be sure to add bags for purchases, cash register and money and a table with supplies for the hat design center.
Clothes Theme Ideas for your Easel--
More Than Just Painting (Although that is always THE favorite in our classroom!)
Paper Doll Clothing
Find a paper doll template.  Cut out and create several dolls.
Trace and precut clothes (with tabs) out of paper.
Provide these at the easel for the children to paint.
When dry, provide the clothes and the dolls at your math and manipulatives center!
Clothes Theme Large Group Games
To Help Build Your Preschoolers' Muscles While They Have Fun Together!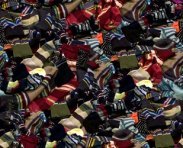 Shoe Relay

The children all take one shoe off.
Place the shoes in a pile on the other side of the room.
Send 3 children at a time to run to the pile, find any shoe that is NOT their, and come back to the group.
They each state whose shoe they have and hand it to that person.  
Those children now go to the pile and do the same.
Fence Weaving
Give the children long strips of fabric or crepe paper.
They weave it throughout your fencing!  
Use different types of textures such as cotton, burlap, and wool.  Add wide ribbon if you have it as well!
Clothes Theme Ideas for Your Library and Literacy Activities for your Preschool Classroom

Dress Me Poster or Flannel Board

Create or purchase a large dress up poster with clothes for the children to add onto the poster.


The children can dress and re-dress it as they read stories about clothing this week.

Click the link to the right to see what Amazon has!

This Dress For The Weather Set is great to let children self-select the activity at center time!



Mary Wore Her Red Dress and Henry Wore His Green Sneakers Flannel Pieces

I made this from the book of the same name (see book list below).  

It is a great way for the children to "read", develop their fine motor skills and their seriation skills!
Book Suggestions for the Library
A Pocket for Corduroy
by Don Freeman
Charlie Needs a Cloak
by Tomie dePaola
Corduroy
by Don Freeman
Emperor's New Clothes
by Parragon Books
Mary Wore Her Red Dress and Henry Wore His Green Sneakers
by Merle Peek
Pelle's New Suit
by Elsa Beskow

Clothes Theme Activities to Help Your Preschoolers Develop Math Skills and the Small Muscles in Their Hands!

Clothes Lacing
In advance, prepare different clothing shapes out of heavy tag board.  Hole punch holes around the edges for the children to lace using shoe laces.
Ideas for shapes:  shirt, pants, socks, hat
Clothing Match

Find (or draw) pictures of clothing (you will need two of each).
Glue the pictures onto index cards.  Laminate.
The children use them as a matching game or to sort by type of clothing.
Shape Shadows
Find (or draw) and cut out clothing shape pictures (Color them if you draw them).  Trace each shape onto black construction paper.
Laminate the colored pictures.  Glue the black (shadow) shapes onto a file folder.
The children match the pieces of clothing to the shadow shape.
Clothespin Matching
Print numbers on clothespins with a marker.
The children clip the clothespins onto a clothesline in the correct order.
Sock Match
Provide a bin of socks.
The children match them by color or by print.
Teach them how to roll the pairs together or to how to fold them!
Clothes Theme Music and Movement Activities and Ideas to get your Preschoolers Movin' and Groovin'!

Hat, Sweater, Pants and Shoes by Patricia Morrison

Sung to the tune of Head, Shoulders, Knees and Toes
Hat, sweater, pants and shoes.
Pants and shoes.
Hat, sweater, pants, and shoes.
Pants and shoes.
And belt, and scarf, and underwear!
Hat, sweater, pants, and shoes
Clothes Theme Activities for the Senses!
Time to Do the Laundry!
Provide either your baby doll clothing or other items of clothing and gentle dish detergent or baby shampoo to the water.
The children will wash the clothes and then teach them how to wring them dry (great for developing large muscles!).
Provide and area directly next to the table that has a wooden clothing horse to hang the clothes on.  Be sure to have a mat under it for the water.  
You could alternatively provide a clothes line against a wall for the children to hang the clothes on.
Texture Board

Create or purchase a board that has different textures of fabric:  wool, satin, burlap, cotton, etc.
Help the children to learn words to describe the textures (smooth, rough, sticky, etc.).  FIND IN AMAZON
Self-Help Boards, Frames or Stuffed Animals
Create or purchase a board that has different zippers, buttons, snaps, lace, etc. for the children to practice on. I found a few on Amazon.  You can click the links below to see details or to check out others they may have available.
Clothes Theme Science Activities--For Your Preschool Scientists in Training!
Natural Dyes

Provide lots of white cotton or t-shirts.  
You will need items such as red cabbage, pomegranites, mustard, ketchup, frozen juice, tomatoes, etc.
Use these to dye the cotton!  
Perhaps add bowls and spoons and paint brushes.
I'd also suggest finding clear food service (non-latex) gloves to wear to avoid staining their hands.
Writing Activity Ideas for Your Clothes Theme!
Letter Matching
Create 26 shirts and pants out of paper.
Print letters on them.
The children match the letters.
Miscellaneous Activity Ideas for Your Clothes Theme!
Backwards Day!
Send a note home announcing Backwards Day!  The children should wear items of clothing backwards such as their shirts backwards or inside out.  
Clothing Swap!
Plan one day to be a clothing swap day for parents.
The parents donate any clothes their children have outgrown.
On the set day, parents can come in and take other items for their children.
Assign two parents to coordinate this!
Other Themes You Might Enjoy:
---
Go to the MAIN THEMES Page for More Theme Idea!
---
Go to Preschool Plan It's HOME Page
---