Fairy Tales Activity Theme for Preschool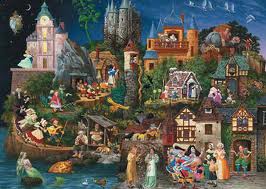 Like Nursery Rhymes, there are so many possibilities of fantastical stories of giants, queens, kings, princesses, dragons and more to include in this theme! There should be plenty to get you started on a great week of Fairy Tales fun!  This Fairy Tales Activity Theme page is filled with preschool activities and ideas for all areas of your classroom.  
You do not have to focus on just ONE of the fairy tales each day! You might have Snow White being acted out in dramatic play while other children are building a bridge for the Three Billy Goats Gruff in the block area and still other children are planting beanstalks to help Jack in your science center!
Have fun! Mix and Match! That is the beauty of Fairy Tales!
Let the Fairy Tales Theme planning begin!
You can either scroll down through this page to see each of the Fairy Tales or click each link below to go to the specific Fairy Tale that you want!
FAIRY TALES ACTIVITY THEMES
---
---
Fairies in a Jar
Here is one activity that may go along with many of your themes! I saw this posted on someone's page. Patricia M (a teacher who visits our site here) has tried this and says it lasts up to 24 hours!
How To Make Fairies In A Jar
1. Cut a glow stick and shake the contents into a jar.
2. Add diamond glitter
3. Seal the top
4. Shake hard
Cinderella
BLOCKS
Add cotton balls and straws to your block area. The children can build a farm for their sheep or sheep pens with blocks and then use the straws to blow their cotton ball sheep around their farm!
DRAMATIC PLAY
Provide a "glass" dress up shoe for the children to try on while acting out the story! Any shoe with a pump will do.
Add princess dresses and older "clean the cinders" type clothing as well as a boys' or men's vest and a crown for the Prince! Add a box to be decorated as a pumpkin-coach.
Hansel and Gretel
Cooking
BIRD FEEDER or BIRD HOUSE SNACK
Thank you Charmaine Nick from Crestview, Florida for this idea!
Use rice cakes, peanut butter (PLEASE CHECK FOR ANY PEANUT ALLERGIES IN YOUR CLASS FIRST), bird seed and yarn
Punch hole in rice cake, tie yarn through hole. Cover rice cake with peanut butter and sprinkle with bird seed.
COOKING
GINGERBREAD
Make some gingerbread from a mix (or your own recipe if you have a favorite one!). Serve warm with some milk!
Jack and the Beanstalk
ART
BEAN MOSAIC
Provide sturdy tagboard or cardboard for paper; glue; variety of beans. How tall will they make their beanstalk?!
MATH & MANIPULATIVES
BEAN COUNTING

In each bowl from the sorting activity above, tape a number inside. The children then sort that many beans into the bowls.
For more bean activities, check out the Planting Seeds Theme page
Little Red Riding Hood
CIRCLE TIME
Bring a basket (picnic basket!) to circle time filled with different types of play food. Cover the basket with a blanket. Have children, one at a time, reach into the basket to feel a piece of food to see if they can guess what Little Red brought to her Grandma!
Three Billy Goats Gruff
ART
TROLL MASKS
In advance, cut eye holes into white paper plates.
Provide paint and brushes for the children to create their own crazy-faced troll mask! When dry, attach a large craft stick to the back.
BLOCKS
Provide farm animals to the block area. They can act out the story by making bridges and use goats. The goats may help the other animals get across the bridge!
DRAMATIC PLAY
Provide blocks for the bridge and encourage the children to act out the story.
GROSS MOTOR ACTIVITIES
CROSS THE BRIDGE
Practice getting across a bridge in different ways.
Use a jumprope or a balance beam--or blocks, paper, whatever you like! to represent a bridge.
Have the children practice different ways to get over it:
Step on it.
Jump over it.
Step over it.
Step over it walking backwards.
Ask them for ideas on how to get across the bridge!
MATH AND MANIPULATIVES
PLAYDOUGH TROLLS
Provide a variety of colors of playdough, sculpting tools (plastic knives, toothpicks) and have the children make their own silly troll!
SMALL, MEDIUM, LARGE
Provide 3 (1 small, 1 medium and 1 large) of several different items for the children to sort.
Such as a small crayon, medium and large; small block a medium block a large block, etc.
SAND AND WATER TABLE
BUILD A BRIDGE
Add small blocks, spray water bottles and goats to your sand table for some fun bridge building!
Three Little Pigs
ART
PAPER PLATE MASKS
Materials Needed: Paper plates, large craft sticks, googly eyes, pink paint for pig masks and brown paint for wolf masks, glue
Children decide which mask they want to make-a pig or a wolf- and paint the paper plate. When dry, glue on googly eyes and stick on back!
EXTENSION: Be sure to make 3 pig and 1 wolf mask yourself and place them in the dramatic play area!
HOUSES

Make houses using small milk cartons!
PIGGY BANKS
Make piggy banks from a 2 liter bottle. Use felt for ears and nose, buttons for eyes, pipe cleaner for tail, and corks for feet.
COOKING
HOUSE OF STICKS
Serve mini-pretzel sticks for snack and make Little Pigs Houses!
THREE LITTLE PIGS HOUSE SNACKS
Thank you Charmaine Nick from Crestview, Florida for this snack idea!
Use Grham Crackers for the brick house, Pretzel sticks for the Stick House and Shredded Wheat Squares for the Straw/Hay House!
DRAMATIC PLAY
Place pig and wolf masks in your dramatic play area. Add a few boxes for houses OR simply section off 3 areas with chairs or blocks for each house!
MATH AND MANIPULATIVES
In separate bowls, provide toothpicks, straw (from a craft store) or actual precut straws of different lengths and precut red triangles.
Provide many pieces of construction paper for the children to use the materials to make a house of straw, stick and brick!
EXTENSION: Pre draw houses for the children to work on their eye-hand coordination.
EXTENSION: Provide glue for the children to glue onto the lines of each house and stick the items on for artwork houses.
MUSIC AND MOVEMENT
I don't remember where I found this song, but I love it!
Sung to "Three Blind Mice"
Three little pigs, three little pigs,
Each built a house, each built a house.
The wolf came by, and he huffed and puffed.
The straw and stick houses were not so tough.
Thank goodness, the brick house was strong enough
For the three little pigs!
SAND AND WATER TABLE
STRAW!
Provide straw from an art and craft store as well as actual drinking straws of different colors and scissors. The children will enjoy cutting these items.
When everything is cut up, provide spoons and cups for measuring as well as little pig and a wolf toy to go along with the story!
Snow White
ART
APPLE PRINTS
Materials needed: Apples cut in halves, red, yellow and green paint in shallow trays, paper
Make Snow White apple prints on paper after reading the story to your children. The children dip the apples into the paint and then onto the paper like stamps.
It may be easier for your children to use the apples (they get slippery!) by inserting a craft stick or fork into each apple.
I hope you've enjoyed gathering ideas for your Fairy Tales theme! If you have other ideas, I hope you'll consider filling out the submission form above to add to this Fairy Tales page!
Looking for a Nursery Rhyme Theme? CLICK HERE
---
Go to the Castles Dragons Kings and Queens Page for more ideas!
Go to the MAIN THEMES page for more theme ideas!
Return to Preschool Plan-It Home Page
---