Memorial Day Activities Theme for Preschool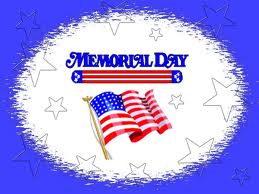 This Memorial Day Activities Page is based on the Memorial Day holiday. It is a United States national holiday declared to honor those who have fought and died serving their country.  Memorial Day falls on the last Monday of May each year.  
A Difficult Time for Families
This holiday can be a difficult time for many who have either lost loved ones in military service or who have family members deployed.  The article link below discusses how military deployment impacts our preschoolers and what you, as teachers, can do.
Impact of Military Deployment on Preschoolers Article 
Let the theme planning begin!  This Memorial Day Activities page contains preschool lesson plans, activities and ideas for many of the areas of your preschool classroom.   
Choose the Memorial Day Activities type of activity you are looking for below to go to that specific section or scroll through the page to see them all!
Memorial Day Activities Theme Art
Windsock
Materials Needed: Blue construction paper, white paint, sponges in star shapes (or star cookie cutters), red and white streamers, hole punch, yarn
The children stamp white stars all over the blue paper. They should tape red and white streamers across the bottom of the blue paper (or glue them). Great opportunity to work with patterns: red, white, red, white!
When dry, help them to tape the paper into a cylindar shape. Hole punch 2 holes on the top on opposite sides of the paper. Add a piece of yarn or ribbon and hang up!
Thank You!
Materials Needed: LARGE piece of poster board with a flag shape drawn on it; fingerpaint in red and white; star stampers
Help the children to make the stripes on the flag by using their handprints.
When dry, they help to stamp or glue on stars
Make a large sign that says THANK YOU
Hang outside your school in honor of those who have served.
Eagle Puppet
Materials Needed: lunch sized bags (white or brown), yellow paper (to make beaks), googly eyes, feathers
Help the children to make an eagle puppet. They can cut out the beak in any shape or you can precut them before the activity. Also, be sure to provide markers for the children to embellish their eagles!
Thank you to Kristi from West Deptford, NJ for the next two ideas!
Parade Floats
Decorate shoe boxes as parade floats, add a string and march around the school. Add instruments and music if you like.
Camouflauge Painting
Finger paint camouflauge like the soldiers jackets. paint on large paper bas and cut into a vest.
Memorial Day Activities Theme Block Center Ideas
Thank you Kristi from West Deptford, NJ for this idea
Add small plastic soldiers to block center for the day.
Memorial Day Activities Theme Circle Time Ideas
Circle Time is such a great time for children to learn the social skills of being together as a large group AND to learn more about your theme!
What is Memorial Day?
Read a story about Memorial Day. Explain to the children what the day is for: to honor and remember those who died fighting for our country. Many children (more than you would think) either know or know of someone who is currently serving in the military right now.
This theme may bring up discussion about those deployed. Take this opportunity to write a group letter to the person or people the children know and make arrangements to send the letter to that military person.
Snack Ideas to Cook Up for Your Memorial Day Activities Theme!
Cooking with children helps develop their math skills and helps them to learn how to follow directions. It also allows for some great conversation!
Ask many questions while cooking with your children to encourage conversation! Be sure to ask specific Space theme questions while making these fun snacks!
Fruit Flag
Ingredients and Items needed: Strawberries, blueberries, graham crackers, vanilla yogurt, plastic spoons and plastic knives
The children should work on slicing strawberries (and the blueberries if they want to!).
They use the plastic spoon to scoop a spoonful of yogurt onto a graham cracker and spread it.
They then place their strawberries and blueberries in stripe patterns.
Memorial Day Activities Theme Ideas to Transform Your Dramatic Play Area
Dress as my Hero Thank you to Roxie from the U.S. for this idea!
Add millitary uniforms to the dramatic play area encourage children to dress up.

Memorial Day Activities Theme Ideas for your Easel--
More Than Just Painting (Although that is always THE favorite in our classroom!)
Flag Painting
Encourage your children to paint red and white stripes on their paper at the easel. Add some stars to the easel tray for the children to place on their flags.
Memorial Day Activities Theme Large Group Games that help build their muscles while they have fun together
Parade Time!
Neighborhood Walk
Take a walk around your neighborhood, school or your classroom waving home made flags or streamers while singing a song they have learned! See the Music/Movement section on this page.
Parade
Thank you Kristi from West Deptford, NJ for this idea
Have a bike/ trike parade. Decorate the bikes and ride around the play yard. Make sure parents bring helmets with the bikes.
Memorial Day Activities Theme Ideas for Your Library and Literacy Activities for your Preschool Classroom
Book Suggestions for the Library
Memorial Day Activities Theme ideas to help your Preschoolers develop those small muscles in their hands and their math skills!
Patriotic Star Matching
Make or purchase star shapes with different patterns on them. The children can use these to match the patterns or to make patterns (such as solid star, striped star, polka-dot star, solid star, etc.).
You can also program these with numbers or letters for the children to match.
EXTENSION: If you make small, medium and large stars with patterns the children can sort, match and make patterns with an even wider variety of options!
Patriotic Door Hanger
Materials: Foam door hangers or foam to cut into a door hanger shape; star foam pieces, craft glue, foam letters U S and A
The children use the glue to place the letters U S A on the foam. They can then decorate with star foam pieces and stickers. The foam pieces with the paper on the backs are great for developing the muscles in their fingers. I've actually "started" each sticker by peeling a bit of a corner off so that they do not get frustrated easily.
Stripes and Stars
Materials Needed: Strips of red and white paper and a large piece of paper; glue sticks; squares of blue paper and star stickers.
This is an activity you can have out at your manipulatives center for the children to make throughout the day.
They should glue the stripes of paper in patterns.
They should try to place the star stickers in a row (just for practice!) and then glue their star square on their flags.
Guesstimation Jar
Place red, white and blue items in a jar (we've used plastic bingo chips). Have the children guess how many are in it without them taking them out. They can guess throughout the day.
At the end of the day, take them out and count them together!
Memorial Day Activities Theme Music and Movement Ideas to get your Preschoolers Movin' and Groovin'!
Freeze Dancing with Red, White and Blue Streamers
Play patriotic music while the children dance using the streamers that represent the colors of our flag. When the music stops, they FREEZE until the music stops again.
Patriotic Songs
Teach the children some songs of patriotic pride:
I'm A Yankee Doodle Dandy
You're a Grand Old Flag
and other favorites of yours!
Memorial Day Activities Theme Ideas for the Senses!
Patriotic Water?!!
Materials: Keep your typical water toys in the table but color the water red or blue!
Sand and Trucks
You can add trucks and little people to the sand table for them to have a parade in the sand.
Memorial Day Activities Theme Science Ideas
for your Preschool Scientists in Training!
Air is Everywhere
How does the flag wave? From air!
Provide the children with a straw and red, white and blue pom poms for them to try to blow across a table! They could have a pom pom race!
Writing Activity Ideas for Your Preschool Classroom's Memorial Day Activities Theme!
Honoring Pictures
The children may want to tell stories about those they know in their families who have died in service or who are currently serving in the military. Write down their stories as they draw a picture of it.
Thank you letters and pictures
Just what it says! The children can draw pictures to thank our military. Make arrangements to send them to someone serving. There is most likely a family member of your preschooler or a friend of their family who is currently deployed in the military.
Ask parents about it so that you can personalize your preschool activity or lesson plans!
There are many other ways to celebrate Memorial Day.  Do you have an activity you'd like to share?  If so, Click Here to Contact Me!  Send my your idea and please be sure to tell me it is for the Memorial Day Page.
Go to MAIN THEMES page from the Memorial Day Activities page


---
Return to Preschool Plan-It Home Page