Student Volunteer Observations: Tips & Ideas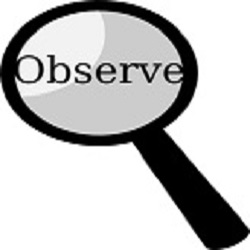 Once you've had a student volunteer in the classroom, student volunteer observations are the next for to create.  They are the best way to assess- Did it work out okay?  What do you report back to their supervisor/professor?
As I discussed on Student Volunteer Handbook, the High school program may have their own form that you need to sign each day that they need to return to their Instructor.  I recommend using this form IN ADDITION to any high school forms.
Also, take a copy of ANY forms you sign for them to keep on file! These forms will help you to evaluate the student at the end of their placement.  

You will not remember details four months from now when filling out the evaluation!  This is an opportunity to record specific observations about things that went well, that did not go so well, etc.
You can then work with them on these items and at the end of the placement, you will be able to write about any growth you have seen.

Unfortunately, you may also need them if there is an issue with the student intern and you need to discuss with them or their supervisor the steps you have taken.
Student Volunteer Observations:  True Story!
I had a student volunteer one year who was completely addicted to her cell phone!  I know we all love technology, however, this was a 45 minute placement once a week.  

I discussed this with the volunteer, reminding her of the orientation discussion regarding cell phone use.  And yes, I documented it on a daily observation form.

The cell phone use progressed to the point of the student using the bathroom......often.........during the 45 minute placement-- to check and send text messages!

We did need to terminate the interns placement with us.  However, because of the daily observation forms and communication with the intern's supervisor (we were in telephone contact each week), I was able to give dates, times and details of what was discussed, when, etc.
Are you looking for a Student or ParentVolunteer Handbook? 
I have created an editable resource pack that has both as well as observation forms and an end-of-placement evaluation form for a student volunteer.

Student Volunteer Observations:  What To Include on the Forms
The following items are what I suggest as a minimum to include on your own observation forms:
Intern's Name

Name of the school or program they are from

Dates and times in the classroom

Name of the supervising teacher in the classroom

Details of the time they are there (What is your preschool classroom doing during the time the intern is there:  Circle Time, Centers, Snack, Outside Time?)

Observations by you and the teacher of the interns interactions as well as any concerns.

Signature lines:  a place for the student and for you and the supervising teacher to sign and date each observation.
Keep A Record of All Student Volunteer Observations
Keep these observations on file.  You will find them helpful when filling out the end of placement evaluation!

Speaking of which!  Let's talk next about what to include in an evaluation for the end of an intern's placement.

Click here for the Student Volunteer Evaluations page!
---
---
Go to the Director's Main Page!
---
Go to Preschool Plan It's Home Page
---