Toddler Teacher Books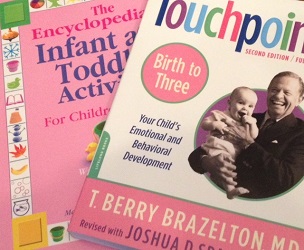 Toddler teacher books are great resources and there are many available!  Here you will find some of my favorite books for teachers of this age group!
So Many Books, So Little Time!

I just LOVE books!  And, truth be told, non-fiction books are my favorite!  Sure, I can get lost in a great fiction book now and again as well, but non-fiction books about the field of early childhood are in my Top 3 favorite genres!
On this page I will attempt to create a list of toddler teacher books that I have read, used as resources or have heard good reviews about.
Where To Obtain Toddler Teacher Books
Public Library
Most toddler teacher books can either be found at your local, public library or can be ordered as an inter-library loan (ask your librarian about this service).  
Amazon

Amazon is, by far, one of my favorite places to shop.  I love them so much, I've become an affiliate with them! I utilize Amazon for almost all my needs:  Christmas shopping, classroom supplies, clothes, and, of course preschool and toddler teacher books.
I use Amazon to purchase books for several reasons:
Click the Picture Below to read more about Amazon Prime.
1.  I have Amazon Prime which means that 98% of the time, I pay NO shipping regardless of how much I spend!  I don't need to have the $25 minimum!  (There is a link below if you're interested in learning more about Prime)

2.  There a many used copies of books I want for much less.  These typically are not free shipping (usually it is $3.99 for shipping), however, getting a used book for under $10.00 including shipping rather than over $20 for the same book?  That's a winner to me!
3.  I have found that their prices are the best around for books in the field.
4.  Their customer service is fantastic.  If there is a problem with my purchase, they always make it right.
Enough of my obvious online "love affair" with this company!
Organizing YOUR Collection
For the most part, I prefer to own my own books so that I can reference them again and again.
I like to highlight my books, put stickies in them and have everything at my fingertips!
I even color code my stickies!  
Pink= New idea I want to try

Green= Growth and Development

Blue=Classroom Design

Yellow=Wow!  I didn't know that!
Okay, this might be a bit over-the-top!  But, it works for me!  I'm able to pick a book off the shelf and flip right to a section or chapter that addresses the questions I might have!
I do recommend that you create a label and possibly a list of the books you personally own.  There are several reasons this will help you:
1.  A label in the book tells people who to return it to if you leave it in a classroom or the staff room!
2.  A list allows you to "check out" books to colleagues and you will never forget who has it!
3.  Should you leave your current program, there will be no question regarding which books belong to the        program and which belong to you personally.
Okay, Let's Talk Toddler Teacher Books!
You can click on any of the pictures below to check out what Amazon has available or just to read more about each title, read some reviews, etc.



This book has wonderful songs, fingerplays and information on using language everyday with young children.

It is out of print but you can many times find a used copy for sale for .01 plus shipping on Amazon or through your local library.



---
This is a MUST HAVE book for any program.

There is the Infant/Toddler version and also a Preschool version.

I would not run my program without these books!



---



This book has wonderful insight into child development from the perspective of the doctor!  

Dr. Brazelton covers so many areas of child development from birth to age three.  

He includes information about developmental challenges (such as allergies, discipline, divorce, illnesses and many other areas that may affect development) in addition to addressing developmental norms at each age.
---
This is an amazing resource!  There are over 300 activities written for this specific age range.  They are activities written for and by teachers, so they are tried and true activities.  

Most activities require supplies or materials that you most likely already have in your program.  
And, this series has books for several other age groups you may work with including 2's, 3's, 4's and kindergarten.  Note that they separate their books by ages?  There is a reason for that!  The following books are appropriate for the ages noted.  We should NOT be expecting our 2-3 year olds to be mastering the concpets that are in the 3 year old book!
If that were not enough, they have their "Giant" series of books for specific areas of teaching!  If your program has mixed ages (2-6), might also find these books helpful.  I've used the science and transition books for years!  I've added links below so you can read about them and read reviews, etc.  Get a cup of coffee or tea!
Remember, if you know of books that you think would be beneficial for toddler teachers to know about, let me know by clicking here and sending me the name and author of the book!
---
Go to the Toddler Teacher Resources Main Page
---
Go to the Toddler Time Main Page
---
Go to Preschool Plan It's HOME Page
---